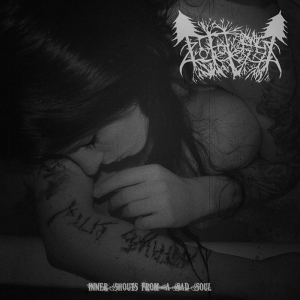 Album Title:
Inner Shouts From A Sad Soul
There are several bands or projects called Lifeless, but this review deals with a side-project of Sacrimoon, an outfit by Mexican multi-instrumentalist Nergot. He's the unhappy soul behind projects such as Black Whispers, Dismal Suffering, Traurigkeit or Broken Life too, all of them being sonic expressions of joy and happiness. In very early 2014 he released an EP, Dark Journey Forested, via Depressive Illusions (and with a session musician), being extremely limited. Shortly after he recruited two other same-minded human being. Best known person is Italian beauty Kjiel, formerly of e.g. Hibernus, active as Angor Animi and in Eyelessight. When she joined Nergot, she also started performing in Sacrimoon and Black Whispers. The third person who is in this international project is Colombian beauty Hypothermia of Coldnight-fame, and the new vocalist for Zenith Maudlin. The trio recorded this first Lifeless full length album in Autumn (when else?) 2014, and it gets released via Ukraine-based Vacula Productions in co-operation with Ecuadorian Insane Asylum Industry.
Inner Shouts From A Sad Soul consists of seven elegies, clocking nearly an hour. And as the album's title might reveal (and so are the other projects these people are involved with), there is quite a huge dose on depression, sadness and grief involved. Just check the artwork, for example, to get even more convinced of this total disappearance of life's joy and lightness.
The trip through the darkest and most depressed areas of the mind starts with the piano introduction Silent Tears, which is quite a cool (in its most Arctic definition) opener: minimal and uncomplicated, but right-to-the-point. As from Forgotten Voices On The Dreary Winter, the core of this act's existence shows its teared face. Extremely slow and mournful melodies, quite melodic, create a tension that drives the listener to madness, almost to suicide (band's mission accomplished!). The loneliness and sadness are so touchable, so overwhelmingly present; it suffocates and at the same time it drives you to the final solution. All compositions are very slow, and this element strengthens the 'depressive-suicidal' approach (read: DSBM). The focus lies on long-stretched (yet not too repetitively performed) guitar melodies especially, created in a multi-layered symbiosis (an expression of Nergot's ability to write and compose material that touches the essence of the concept!). I think the whole supporting structure is of a high level as well. Okay, the drum patterns are very minimally performed, for example. But it fortifies this sonic definition of misery. And once in a while, like in Misery (hey, didn't I just use this word?), the tempo accelerates a little, but it stays within proportions of Doom-acceptance.
Most of the time the structures and melodies (read: the whole composition) are intriguing and convincing. However, with a track like Failure I get lost. That's a pity, for it lacks of deepness, of persuasion. But such excerpts aren't but the exception within the whole journey.
Quite important are the vocals. At the one hand you have those hollowed, echoing and ultimately suffering, painful, desperate screams, breathing misery, despair, self-mutilation and malice. Besides there are the 'clean' and melodious voices, that express at least as much intrinsic discomfort and melancholy. The latter, however, are not always as stable – on the contrary, when they appear they are mostly false in tonality. But you know: I don't care. There is quite a comparison to Mandy Andresen's voice, and I never disliked her vocal incompleteness or imperfection either.
The sound quality is not bad, but not satisfying either. The dense and unpolished production surely covers the whole experience in grey veils of suffocating mist, but the final mix misses some grandeur, some elegance, some workmanship. It is not an insuperable issue, but some more 'colour' (???) might have been an added value.
One more thing: in a very near future I will upload a review for Sacrimoon's Reflections Of My Suicide Melancholy, also released via Vacula Productions.
[PS: on this day's update, another unhappy release by a Mexican artist has been uploaded: check out the review for Sadness …]