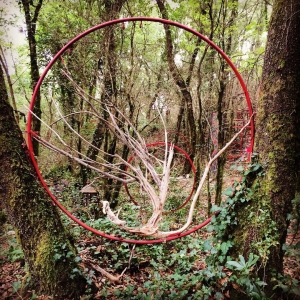 Not that long ago I got in touch with a French guy, Arthur Arsenne, who did initially impress me by a collaborative album, created together with Piotr Cisak and Pawel Oleksinski (for the review on that Arsenne + Cisak + Oleksinski recording, see update of January 17th 2016) – thanks to Frozen Light for the opportunity, and so on… Anyway, it turned out that A.Arthur (his 'professional' name as musician) did run two young labels, Death Carnival Records and Arsenic Solaris. For both I did some reviews in the meantime (enter the label's name in the 'search' tab if you're interested) and there are a handful or chroniques yet to come as well (for e.g. a co-operative with Vitaly Maklokov, Funiker, The New Apsurd, Mitantecuntri or L_Arsenne; the latter all being an outfit which include Arthur too).
Another project from this sympathetic guy is LOC, an abbreviation for Lands Of Conifer, which he started in 2012 or 2013. There are a handful of releases, amongst which a couple of splits with the likes of Aun (the review for the album AUN With LOC was published on March 13th 2016), or with another of his projects, Mitantecuntri (see April 3rd 2016 for the review) – both of them were truly excellent creations of Aural Art! With Lands Of Conifer we can now enjoy another release, called South Forest. It's a lengthy one-track recording, done live in the venue La Zonmé on the fourth Zen De La Zonmé festival (August 30th 2015). It's not the first time, by the way, that Lands Of Conifer played live in that Nice-based music-temple (cf. the split-tape Mitantecuntri / L.O.C.).
Anyway, that album, which lasts for more than forty minutes, comes in digital format as well as on CDr in a recycled sleeve, as part of the Handmade Series. There aren't but fifty copies available, so I recommend not to wait too long to order your copy. The artwork, cf. pictures included, is done by the artist himself, and I adore it. No depressing winter landscape, nor some evil-looking post-apocalyptic factory views, yet the greenness of nature, like a meditative place somewhere in the womb of Mother Nature herself. I feel welcome, I feel enlightened…
South Forest gets performed by guitars and some electronics, lacking of additional stuff, lacking of material to cover or hide any imperfection. The longform composition is like an extensive, ample aural journey, based on a somewhat hypnotising main structure, yet with, underneath the surface, hidden levels of sonic grandeur.as from the start, South Forest mesmerises, bewitches, takes your thoughts away towards worlds beyond the conscious, beneath the surface, deep into the Self. It slowly, very slow builds up, time and again coming up with the subtlety of new elements. It is quite difficult, if not almost impossible, to give a profound description of detailed aspects going on, yet this experience is filled with finicking principles. It is like a long-stretched wave-of-sound, with a surface that, at first sight, seems to be equal; but if you examine the different details, if you go deeper into the core, the heart of this creation, you'll notice a magisterial entirety of moods, emotions, thoughts and ideas.
Layers of droning guitar sounds, quite woolly and floating, are like the spine of South Forest. It's the fundament that carries the whole trip. But there is a permanently interacting addition of injections, sometimes trancelike, then again spiritual, hypnotic or dreamlike.
South Forest is a listening experience, which does just fine as both background material, as well as active-listening stuff. In the first case, being the background experience, this lengthy creation acts like the perfect soundtrack to calm down, to dream away, to let yourself fade away into oblivion, to hide in a vast dream of eternity and immensity. In its active sense, South Forest grabs your attention, and does not let you go. You will be carried away to places you want to be (or want to be part of) in order to find (inner) truth… Damn, I sound like a stoned hippie, and I am not (not stoned, nor a hippie). No, don't expect a shiny happy people thing, for this is not the case at all. But in a comparable manner, you will be subject to a spiritual freedom that exceeds the material, or physical, existence (no, as said, I am not stoned…).