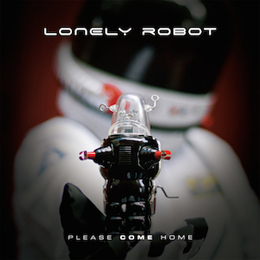 Release Date:
Monday, February 23, 2015
Lonely Robot is not a band, but a project by guitarist/singer/songwriter John Mitchell, best known a being long time guitarist for British progressive rockers Arena. 
He wrote all the songs,, and did much of the instruments and vocals himself, but also made use of a score of (famous) guest musicians.  The only instrument he didn't play are the drums, which were played by Craig Blundell.  Marillion vocalist Steve Hogarth also performs on two songs, doing the backing vocals as well as the piano.
As it turns out, this album is progressive rock, but without stressing the technical aspects.  And while mister Mitchell is better known for his work as guitarist, I must say I was impressed by his vocals, which reminded me a bit of Peter Gabriel.  Another guest musician that astounded me was Peter Cox, better known for his eighties pop music with Go West than for his rock music.
The best track – for me that is – on this album is the duet with Heather Findlay. 'Why Do We Stay' is a beautiful, emotional song.  But the next song 'Lonely Robot' will not be ignored either, as it's an eight minutes long masterpiece, made up of many layers. All in all I found this a very agreeable album.