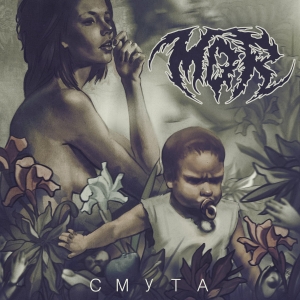 I admit that I had not heard of the Russian band MØR before. Investigation taught me that this band did record a handful of albums before, yet I think their brand awareness was locally focused especially. Their latest release, however, gets distribution support by Symbol Of Domination Productions (Satanath Records), so it might result in more international opportunities.
The band, a quartet that consists of Alexey Popov (who left the band in the meantime), Alexander Belyaev (also ex-member), Denis Uvarov (who took care of mix and mastering too at the Secret Forms Studio), and Konstantin Hookov, recorded this material on several occasions in 2016 and 2017, and the result got self-released in very early 2018 on CD and digitally. Remarkable: the bizarre (!) yet unique (!) cover artwork, done by band member Aleksander. The compact disc appears as digipack and includes a sticker as additional extra, and there is a very limited tape edition too, self-released and distributed by the band.
Смута (pronounced as 'smuta'), which means 'mess', includes nine rather short tracks (in between two and five minutes). It stands for a groovy and up-tempo and rhythmic form of Hardcore / Southern-inspired Stoner / Doom / Sludge with quite some Metal influences. Besides, there are a lot of Post-elements too, crossing the bridge in between the band's old school inspiration and the band's modern approach. The whole has a fine melodic approach and a huge dose of nice extras: samples, variety in tempo (though the overall speed balances in between somewhat doomy and mid-tempo, with just a couple of faster outbursts), punkish anthem-choirs, a couple of very nice acoustic excerpts, and much more.
The sound quality is full and heavy, with a great mix that offers each single member the opportunity to represent his skills. And still that symbiosis is very coherent in result. The fatness of the production strengthens the dark, doomy and pounding execution, and that is a surplus for sure.
Open-minded fans of everything in between Danzig, Crowbar, Down, Alabama Thunderpussy, Damageplan and Gojira will surely adore this stuff.