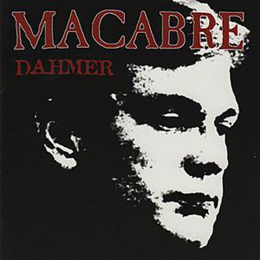 Release Date:
Thursday, December 26, 2013
Primo: Hells Headbangers and their intelligence for the re-issue of classics. In an impressive series (think: Deceased, Beherit, Mortician, Incantation, NunSlaughter, Insanity and many more), the label comes with the vinyl re-release of Dahmer, originally released in 2000 via Decomposed / Hammerheart Records. The album deals with the life and deeds of Jeffrey Dahmer, aka the Cannibal of Milwaukee, a serial killer, necrophile, rapist, cannibal and manipulative personality who killed at least seventeen persons, but probably much more (there are a couple of unresolved murders from the period he lived in Germany, and there might have been more victims during the eighties). I read a lot of this guy when I was younger, but if you want to get 'deeper' into the life (and death) of this sick-head, I would like to refer to the web, of course, or one of the many books or television documentaries; there are even a handful of movies dedicated to this guy.
Anyway, the music typifies Macabre: Tech-Death and Heavy Metal, Prog, Grindcore, Thrash, Punk, Doom, Folk, Country, Rock, Psychedelica and Groove, mixed with lots of fun and joy, and balancing in between technical experimentalism and traditional nihilism. Sometimes it sounds quite serious, then again it isn't but irony and sarcasm that rules.
A classic, but not for everyone…