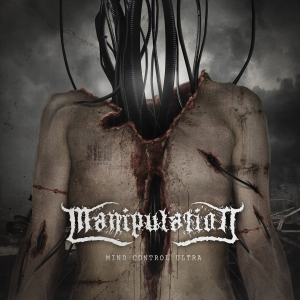 Due to health-related circumstances within my family, I am working / I try to work away my delayed reviews for a label, or better, a cooperative of labels, that I adore for several reasons: the varied sonic approaches, the open-minded support, and last but not least, the wonderful guy behind these labels, Mister Aleksey 'Satanath' Korolyov. Anyway, whatever, thank you, and stuff…
This review deals with the fourth full-length by Poland's finest Manipulation, an act that started at the very beginning of this century and which consists of former or current members of e.g. Cinis, Empatic or Deathbringer. Throughout the years, these worshippers of mirage (!) did record and release some material that was quite well appreciated in, especially, their home-country, and after about four years of silence, Manipulation do return with Mind Control Ultra, which gets available after signing to the mighty upcoming label Symbol Of Domination Productions.
This act did record a very modest yet somehow impressing amount of stuff, even though the line-up has not ever been that stable. Especially vocalist-wise, Manipulation did have some issues. However, as a renewed quintet they did collect twelve (new) songs under the banner of Mind Control Ultra; an album that clocks more than forty-six minutes, by the way. Symbol Of Domination Productions came up with five-hundred physical copies, which do include a sixteen-page booklet that contains the lyrics (in English).
From sonic point of listen, Manipulation do perform a very nasty and intense, yet highly technical form of old styled Death Metal. For sure the classic / legendary scene from these guys' home country does come to mind. But what strikes me enormously is the extended variation and superb atmosphere of this album. When talking about the latter, those spheres, well, this goes further than just performing brutal and devastating Death Metal with that satisfying old-schooled touch of uncompromising fierceness. Actually, these pretty boys (growler Kret, skin-molester Kriss, guitar players Rado.Slav and Vulture, and four-string guitarist Bysiek) know how to combine intensity and energy with detailed eye for content, atmosphere and melody. An element that strengthens this statement is the subtle use of synth parts (acting at the background yet undeniably colourful when used [*]), another one is the addition of some slower parts with smoothly floating melodies as spine. And what about some asphyxiating intermezzos, like that hypnotic excerpt in MK-Ultra, based at first on some intoxicating riff, followed by that mesmerizing and sludgy part!)?
[*] a shorter intermezzo like The Skull With Acid In Eye is an example of weirdly-constructed sonic creativity, mingling psychedelic synth-lines, tribal drum-patterns, jazzy percussion and meditative keyboard-layers (and bizarre manipulated voices at the end).
Yet the better part is harsh and uncompromising for sure. Most compositions are based on a furious rhythm section (the bass-sound adds a level of suffocating obscurity, the extremely varied drum-patterns pound, rage, beat and thunder, the rhythm guitars support the front-line of the warlike hordes at the blood-drenched battlefields; oops, I got overwhelmed by an intolerant level of militant poetry). All this lifts up the timeless leads and melodies, sometimes raging like a rabid bull on acid, then again based on duelling leads and some tremolo riffing, once in a while experimental and progressively high-tech-performed in the vein of some of the U.S.A.'s most notorious bands, or mathematically explored and dissected. Also the progressive, djenty experimentation à la, let's say, earlier Meshuggah, Gojira, After The Burial and the likes, gets used to enrich this border-trespassing elegance. Once in a while, even subtle hints of Epic / Black Metal do enter the adventure. And I cannot forget to mention the megalithic throat of Kret, quite diversified in expression: growls and grunts, screams, and even some aberrations-on-purpose!
A word about the production: scorching! Honestly, the sound quality is extremely powerful and intense, empowering the energy that characters this extreme stuff. Yet above all, the attention given to a well-balanced equilibrium of all instruments is simply honourable. The aural result therefor isn't but ear-candy.
A must for fans of, and I'll keep it enormously open-minded, everything in between Thy Decease, Hate, Origin, Hate Eternal, Decapitated or even Suffocation and Immolation.
https://symbolofdomination.bandcamp.com/album/sodp117-manipulation-mind-control-ultra-2019
http://satanath.com/sodp/item/sodp117.html
https://www.concreteweb.be/reviews/manipulation