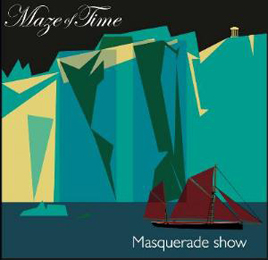 The story goes that one day in the middle of the last decade, guitarist/ songwriter Robert Edman returned home from a shopping trip in Helsinki, and having bought albums by the likes of The Flower Kings, Spock's Beard and Porcupine Tree, set to discovering the Third Wave of Progressive Rock! I mean, how can anyone with an interest in a specific field of music, in these modern days of Internet communication, be unaware of what's happening?
Well, at any rate, thus was how it was for Robert, and it was a good thing he went on that shopping trip (maybe thanks are actually due to the helpful shop assistant or owner whom put Robert to those albums?), for it gave him the incentive to start making this kind of music again. So, he called up some friends, and with Christer Lindström (vocals/ guitar), Alex Jonsson (keyboards), Janne Persson (bass), and Thomas Nordh he went into a studio with the intend to record the demo Under The Sun (which happened to be the band's original name until 2003). this got the band a deal with Holland's Art Performance Production. So Robert started writing music for the band's debut album Tales From The Maze, which was released in 2006. However, because in the meantime an American band by the name of Under The Sun had arisen, the Swedish band changed its name to Maze of Time. Shortly after the album's release, Christer was replaced by Jesper Landén. New musical influences (from Rush, Yes, Marillion, Genesis and King Crimson) matured the band's sound, and saw them move in a new direction on their 2008 album Lullaby For Heroes.
For the band's third album, a further maturation happened, in that this time all band members involved themselves in the songwriting, as well as in the production. In all, the recordings (which started in 2011) took longer that anticipated, and the release date had therefore to be delayed to 2012. Whatever, you know, as long as the end product gets out there. So far, the band has only played a few gigs in Sweden and Holland, and found themselves haunted by the idea of having been jinxed, as most of the places they had played either closed shortly after the gigs, or burned down!
I'm sure that's just coincidences, eh? For music off the new album, you will have to make due with 30-second samples provided by one of your trusted online sales sites. There's some of the older songs available at (www.) mazeoftime.com ("music" section, player on left side of page - "buttons" in text do not work) and at (www.) myspace.com/mazeoftime, some of which with the current singer. And you really dó wanna hear this guy, for thanks to a somewhat nasal vocal signature, he gives the whole that more a character of its own! Influences as mentioned above may come fleeting by here and there, but overall I would say Maze Of Time deserves to be called a unique individual within the scene! Great music, great delivery! And yet another addition to my "Best Albums Of 2012"-lists!