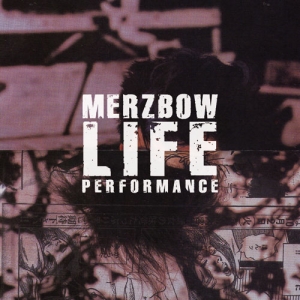 Well, let's be honest: Cold Spring do come with quite some excellent re-releases lately. Amongst those, please welcome a recording from 1985 (!), a creation of Japanese Noise god Akita Masami aka Merzbow. This 'old' guy (he's sixty in mean time!) named this solo-outfit after some piece of art by Dadaist artist Schwitters, the 'Merz-bau', for what it's worth. This material was initially released in an extremely limited edition in 1985 on tape via Akita's own ZSF Produkt label (in co-operation with Le Syndicat) (recording and mix, by the way, were done at this guy's own ZSF Produkt Studio), and everything got remastered earlier this year (at Munemi House), based on the original recordings registered on the master tapes from February 1985. Despite the title, this does not deal with some live recording, a stage-gig put on tape (mind the 'life' in the title, instead of 'live', and look through the dark mirror of narrow-mindedness), but it's a well-thought studio creation, spawn from a sick Japanese brain…
Life Performance aka Nil Vagina Mail Action consists of five 'songs', being Nil Vagina Mail Action Pt. 1 up to Nil Vagina Mail Action Pt. 5. Four tracks out of five clock over ten minutes, one 'only' five minutes, bringing the total running time on a totality of more than one hour.
Despite the 'oldness' of the stuff, it's clear that Merzbow do deserve a high status within the international Noise scene. What this Japanese human being creates / created is to be canalised to the purest essence of Noise; the kind that does not lose itself into pathetic extremities, infantile harshness or pulp that lacks of content and depth. No, Merzbow did always search for the ideal way to define Noise as an artistic stylistic 'trend. There's even a whole story-telling going on; or at least I always feel like Merzbow's Musick is somehow trying to express certain feelings, emotions, experiences, happenings that made some impression. And you know; I do not think I am that mistaken, actually.
But anyway, Life Performance brings rather harsh and rhythmic Noise, flirting with the experimental side of the Power-Electronics scene, mingling chaotic nonsense with constructive destruction when talking about the sonic side of the game. Okay, it's totally mechanical, machinal, factory-industrial if you want to, but at the same time there is so much to experience. Screeching distortion, weird samples, droning noises and vile-industrialised sound collages are melt into semi-intelligent constructions of pre-frontal mind-destruction, focusing on the untouchable essence of us, the human being, being nothing but primitive survivalists, living beings trying to hold on for another couple of centuries (and since we aren't but the living scum of Mater Terra – but hey, I promised myself to lower my misanthropic convictions this time, so I won't nay about the stupidity and filthy existence called 'human existence' and – oops, I did it again…).
In conclusion: there's Noise, and there's Merzbow. One cannot ignore or deny the influence this Japanese act had / has / still has on the worldwide scene, and a record like this one surely defines the importance of this project. Whether you adore the Noise-current or you do not: this is top-material! Don't forget: this stuff has been created and performed more than three decades ago!!!