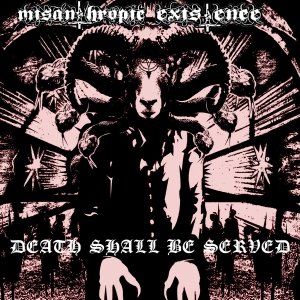 Release Date:
Saturday, February 10, 2018
When you call your band 'misanthropic existence', I know that you're doing a great job. So be welcomed, Misanthropic Existence!
Actually, this band was formed at the very beginning of this decade. In 2012 they recorded a first demonstrational mini-recording, and two of these tracks also made it, that very same year, to a split with Baalberith, Razakel Krieg and Mantarok (Satanica Productions). Then things went silent…
Enter 2017. After a modest line-up change, the band returned with a first full length album, called Death Shall Be Served. It was self-released by the band in digital format in January 2017. And then, suddenly, the great and intelligent Mister Stu from Aesthetic Death showed up – hey, why not pressing a physical copy of that terrible sh*t? Yeah, it might be the deserved beginning of a story called Misanthropic Existence…
Indeed, Aesthetic Death re-issues the material from the original recordings, after a professional mastering by Greg Chandler – who else – at his Priory Recording Studio. The result is a very cool digipack with an eight-page booklet, containing explicit but inventive and attractive artwork (by a certain Jan Pysander Whitney of JDW Artworks). The eleven tracks have a total running time of more than an hour – hurray!
These sweet Englishmen perform 'Extreme Unholy Hellnoise from a cultural void' and Hell yeah, I do agree! Actually, Misanthropic Existence bring extremely intense and harsh Death Metal, enormously apocalyptic and violent, and drenched totally in an acid bath of blackened fury. Blackened Death Metal would be an easy description too. About everything is constructed around a devastating eruption of blasting drum patterns (by CymbalRapist – why not; he was in a hurry, apparently, for this stuff is so fast and, moreover, recorded in just one day), buzzing strings (Lord Hypocrisy) and dual vocals, being deep-gurgling death grunts and grim, evil blackened screams (by both of them). With thrashing rabidity, Death Shall Be Served stands for timelessness yet with an old styled vibe for sure. On top of it, there is something militaristic going on as well. You have that militant execution at the one hand, with that 'taking-no-prisoners' attitude. Some drum salvos are martial and radical in performance, and the straight-forward riffs strengthen that decadently aggressive vibe. Besides, the warlike atmosphere promotes intolerance and a lack of mercy. And what about the war sirens, for example, at the start of the title track?...
The lyrical side too is extremely radical and explicit, criticizing monotheist religion, mocking mankind, promoting extinction, intolerance, war, racial inferiority, violence, blasphemy and misanthropy. What about titles like Humanicide, Molested By The Abrahamic Gods, Decadent, Pestilent; Piss-Sodden Sub Race or War-Torn Earth And Blood-Soaked Skies? Indeed, you get the point.
A last word about the production: the intense the sonic side, the brutal the sound quality. The material on Misanthropic Existence sounds monumentally extreme and intensely overpowered, yet still presenting a well-balanced result when analysing the mix. Yes, seen the heaviness, the production is chaotic and noisy, but certainly not under-produced.
This album needs endurance and persuasion to get through, for it is an overwhelming, harsh experience. It surely is not everybody's cup of (psilocybin) tea, but the sickest minds amongst us might get aroused, lusting for blood, longing for victory. So, imagine a bastard child of Belphegor and Deicide, or an osmotic symbiosis of Arkhon Infaustus with Carpathian Forest, and there you have it…