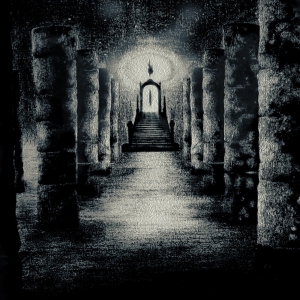 Album Title:
Et Lux Perpetua Luceat Est
Release Date:
Saturday, August 22, 2015
Actually Missa Mortvm were formed almost five years ago, but Et Lux Perpetua Luceat Est isn't but this Chilean band's first official release. The album was initially released independently the digital way in very, very, very early 2015, and then pressed on CD in order to get released via the unholy trinity Satanath Records, Sphera Noctis Records and Darzamadicus Records (a co-operation that appeared before in other constellations). It consists of five pretty lengthy tracks (from six to ten minutes) and it comes with great artwork; but that isn't but undersigned's personal opinion, and since it has nothing to do with the sonic side of this review…
Et Lux Perpetua Luceat Est takes off with the ten-minute track Cantos Profanos, starting with a cold and creepy introduction. But when the duo (main instrumentalist & singer [(1)] OTS and bassist AJ) start 'performing', I am truly impressed. Missa Mortvm create an extremely oppressive, massive form of Black Metal, rather slow-paced and atmospheric, with inclusion of fast and epic outbursts, hints of dissonant Post-Black majesty, drenched in abyssal spheres, and full of surprises. The latter has to do with the many changes in structure, the great intermezzos, the fabulous execution of well-written pieces, and last but not least the cool production.
[(1) vocals: lyrics written and 'sung' in their mother tongue, Spanish]
That first song isn't a coincidence, for all pieces are comparable in persuasion and conviction. The better part is based on somewhat traditional, slightly Nordic-styled structures, epic and victorious, fearless and straight-forward. But at the same time there are so many subtleties that give that little 'extra' to the whole experience. Every single composition is a creative combination of tradition and originality, of power and craftsmanship, of rhythm and melody. And as mentioned before, the variation in speed, approach and melody within each single song makes all of them necessary creations.
But it's not the variation 'within' each track that is remarkable; the different pieces too do differ quite a lot from each other, though being based on a coherent identity. Ire Viam De Lumine, for example, is more thrashing and grotesque, while Cantos Profanos has an atmosphere even denser than any other track, while Oh Bene Subtritus, then again, is based on epic structures rather than ritual ones, and so on…
A surplus too is the vocal differentiation of OTS. Sometimes he screams like a servant from Hell, then again like an adept of the most suffocating Morbid Death trend. But within the whole mix, despite being on the foreground for sure, those vocal lines do not overpower the instrumentation. Every element has its own role to play, creating a fabulous symbiosis that, eventually, defines the majesty of Et Lux Perpetua Luceat Est. it's every detail that makes this whole experience a great journey.