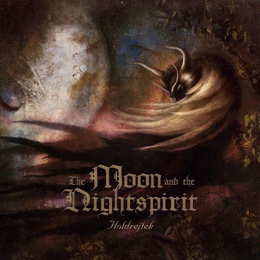 When the Hungarian Doom-band EvenSong was put to hold, the couple (?) Ágnes Tóth (vocals, violin, percussions, keyboards, flute, dulcimer etc.; she also takes care of the cover and lay-out) and Miháli Szabó (vocals, strings; also zither and kalimba, for example) formed the Neo-Classical act The Moon And The Nightspirit (in 2003). They did release four albums in meantime, being Of Dreams Forgotten And Fables Untold (back then with lyrics in English mainly; afterwards they wrote their stuff in their mother tongue), Regõ Rejtem, Ősforrás and Mohalepte. The latter was self-released, the three first ones being released via Equilibrium Music. Now this duo is on Auerbach Tonträger's roster, a sub-division of mighty Prophecy Productions. Once again, the duo did everything themselves. Not only the artwork (cf. Ágnes), yet also production, engineering, mix and mastering were done by The Moon And The Nightspirit at the Elysion Studio.
Just for your information: The Moon And The Nightspirit are a very coherent entity. This has a couple of reasons. First of all both members play together for quite some time (cf. EvenSong). Secondly, they created four albums before, being produced etc. by themselves. But as producing duo they do work together for some other (Hungarian) acts, like Ahriman or Dilemma Complex. And for a brief period the two of them had another atmospheric Doom-project going on, called The Veil Of Isis, which was comparable to their previous band, EvenSong. And on top of it, when playing live as The Moon And The Nightspirit, they are helped out by former EvenSong-colleagues. This aside…
A big deal of the lyrical concept is based on the Tabula Smaragdina, a text (though very cryptic) by Hermes Trimegistos, founder of the Hermetica and considered to be a prophet. More specifically it deals with the interaction micro- and macro-cosmos, Earth and the Outer World ('that which is above is that which is below' etc…).
Musically, this fifth full length goes strongly on in the very same vein of all former material. Holdrejtek stands for forty five minutes of ethereal, spiritual and fairy-like Gothic / Neo-Classical / Folk Music, mixing neo-romantic, spiritual, mythological and mysterious elements. The album opens with the instrumental introduction Mohaszentély, which is both a dreamy as well as little creepy piece. It's like a lullaby malformed and disfigured with the intention to create a horrifying experience, I think. Mind the singing birds at the background! Nice opener. Then, as from Égnyitó on, The Moon And The Nightspirit come up with their highly attractive and catching Aural Beauty. This track is very up-tempo, with whipping percussions, hypnotic melodies (violin and synth), and so on, yet especially the wonderful, warm voice of Ágnes strikes. It has something esoteric and even oriental for sure. Also the strange voice of Miháli adds an additional dimension of oppression and wonder. Magban Alvó is much more integer and so(m)ber than Égnyitó. Especially the introduction is slow, mystic and floating, slowly transforming into a more energetic and tribal creation. More than once, Ágnes' voice reminds me to a mixture of Julie Cruise and Alison Shaw (of Cranes-fame), translated into a certain Heavenly Voices-style. Songs like Bolyongó follow the sanguine, even mirthful trend of the former compositions, while the truly beautiful title track or Mikrokozmosz Pt 1 and Pt 2 are, from stylistically point of view, rather desolate and introspective (cf. the introduction of Égnyitó). The hints of late-medieval spheres and slightly Baroque-esque neo-symphonies aren't but surpluses.
Undoubtedly a MUST for fans of Ordo Equitum Solis, Laïs, Les Secrets De Morphée, Rajna, Faun, Dark Sanctuary, Ishtar or Artesia; even fans of Arcana, Dead Can Dance, Ataraxia, Faith And The Muse, Wardruna, Weltenbrand / Die Verbannten Kinder Evas, Camerata Mediolanense or Tenhi will appreciate this floaty stuff for sure.