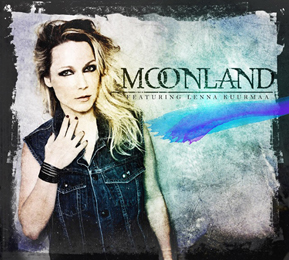 Release Date:
Friday, September 19, 2014
The anticipated MOONLAND project finally brings back to the spotlight on the international Rock music markets Estonian singer, actress and TV personality Lenna Kuurmaa. Lenna has been the front-woman of the Pop-Rock sensation VANILLA NINJA, an all-female outfit, which debuted in 2002 with their self-titled album and went on to release  internationally another 3 very successful studio albums (which won Gold Records awards in Germany, Austria and Platinum in their home country, Estonia). In 2005 VANILLA NINJA also won the selection to represent Switzerland in the Eurovision Song Festival with the song "Cool Vibes", ending at the 8th place.
The group's latest album, "Love is War", was released in May 2006 and brought VANILLA NINJA to appear successfully at the Viña del Mar Festival in Chile. The latest release from the band was a single "Crashing Through the Doors", a great rock song penned specifically for VANILLA NINJA by Roxette's Per Gessle.
But the album "Moonland" is not so amazing then they presented. Some rockballads without some feeling and power. To soft to be make it. A lot of song are Roxette-, Pat Benatar like. Some tracks like "Out Of Reach" starts powerfull but after 34 second the song collapse. All the songs are to eighties. A little light in the darkness the last song "Another Day I Paradise" powerfull, the voice that blends with the song. This album don't surprise me not fresh and not powerfull enough? Maybe other time.