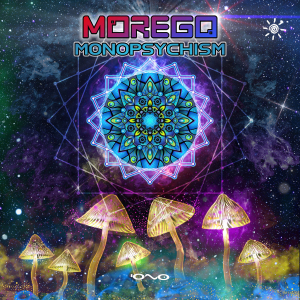 I am quite a 'fan' of Xerxes The Dark, a dark-edged Industrial-injected Dark Ambient / Drone project from Persian soil, run by Mohamad Reza aka Morego Dimmer. This guy also runs some other projects, like Blind Owl, Nyctallz or Ostanes, and he runs a label, a studio… Enfin, even though it might not be easy at all to be a musician from Iran, this guy is quite productive for sure.
Mohamad is the guy behind Morego too. This one is a rather Techno / Down-Tempo / Electronic / EBM / IDM / …-oriented outfit with a modest yet quite interesting roster so far. I adored Astrophile and Blessed Seed a lot, and Morego did sign recently to German-based Iono Lounge (a division of Iono Music) to have Monopsychism released – a new recording that trespasses boundaries, limitations and borders whatsoever.
Monopsychism is a digital-only release (I have no idea, but I think / hope that a physical edition will come up soon), consisting of nine titles that clock more than fifty minutes. Once again, everything – and then I am referring to song-writing, recording, production, you know) was done by Mister Mo himself at his DIM Studio; even the truly fitting psilocybin artwork was created by this multi-faceted artist. It's a conceptual piece too, narrating about a universal awareness of the human kind being like one same-minded spiritual entity. Or as stated by the artist himself: it 'is the belief that all humans share the same eternal consciousness, soul, mind and intellect', which one can find back within both ancient and contemporary ceremonies, rituals and traditions. Of course we are not all the same. I, for example, am much smarter than most of you, prettier as well, and… Oops, sorry, I have been watching too intensively at those tasty mushrooms on this album's cover, I think…
The better part on Monopsychism stands for Chill-Out material with an energetic and cheerful attitude. Once again, it's more psychedelic and mentally-disturbing than before; call it a natural evolution that organically progresses and evolves, if you want to. This goes for the rather up-tempo tracks as well as the down-earthed ones. I am not going to describe all of them, for that would bring me too far, but despite quite a huge variation in between all tracks, there surely is an organic cohesion as well.
Most piece, anyway, are quite thrilling, with vigorous structures and pushing beats. Take the opener, for example, called Sun Rays In The Forest. That one is like psybiental electronica, mixing experimental sound collages, elements from Dub-Step, electronic beats, additional percussions, psychotropic sound sequences and danceable melodies. There are many synth layers and drum beats gathered into an uplifting and vivid, strenuous and solid result. Some other pieces on this album (like the glitchy composition Natural Healers amongst others) carry a same-minded emphasis and up-tempo power.
Follow-up Unity is partly comparable yet, at the same time, coming up with a rather loungy approach. On top of it, the percussion-work is more rich and fruitful, and the floating melodic lines are more dreamlike, more representing a moony ambience. This starry-eyed approach get sort of 'used' within other titles on Monopsychism (the lengthy and permanently 'growing', quasi-levitating – not kidding – track Washing Memories is an example of this equilibrium of transcendental melodies with an in-depth feeling of trans-dimensional grandeur; or what about Getting Lost with its hallucinogenic basic sound).
Some songs, then again, carry a much darker, or better: integer and spiritual, approach. Star Shaped Patterns is slower (yet still energetical; cf. the drum machine sounds and additional percussion), even meditative when focusing on some of the synth-lines, and in some way carrying an Oriental atmosphere. A work like Separate Reality delves even deeper within dimensions of the subconscious. It's based on simply mesmerizing synth-waves, somehow sentimental and convincingly introspective. It's as from half of this track that electronic beats and additional keyboard-fragments join this beautiful melody. Pure hypnosis! The final track, Waking Up In A Parallel World, sort of follows this trend, but it is much more complex and multi-faceted in construction.
Conclusion: Monopsychism is a remarkable, distinctive and intriguing album that will please all open-minded adepts of Psybient, IDM, Cosmic Ambient, Down-Tempo, Trance, Chill-Out and Electronic Music in general. Do not expect material à la Xerxes The Dark (but I am sure you did find this out yourself in the meantime, didn't you…), but open your mind (magic mushrooms may help to explore and travel along) and plunge into the crystal-clear waters from Morego's unique universe…
https://morego.bandcamp.com/album/monopsychism
https://moregomusic.tumblr.com/
https://fanlink.to/Morego-Monopsychism?fbclid=IwAR3B6xDbeMthWk7O_POxODIGHEzlyVw2JlLjSQwrc1UQPMrOzBy56SaF1No