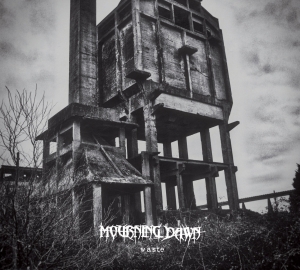 Release Date:
Tuesday, February 21, 2017
Intellectual sickness… Indeed, that's a righteous definition for this newest epos by Paris-based act Mourning Dawn. And I will repeat it again and again!
The band was formed in 2002 as a solo-outfit of Laurent Chaulet, also known as Pokemonslaughter (yeah, beat that Pikachu monster to pulp…). After some demos and a first EP, Laurent recruited some permanent members, which resulted in the recording of a first full length in 2007, the great self-called epic. Another album followed in 2009 (For The Fallen…), but then things faded away into oblivion and silence. It took until 2014 to 'enjoy' a new album (Les Sacrifiés), but then things turned into sonic nothingness once again.
Enter 2017. In the making since 2015, helped by several bottles of whisky, Mourning Dawn and Aesthetic Death joined forces, collaborating to release Waste, a new conceptual album which was composed and performed by Laurent (qui a mal aux mots…). The result got mastered by Esoteric's Greg Chandler (also on Aesthetic Death) at the famous Priory Recording Studio. It comes in an edition of 1,000 copies, in a three-fold digipack form, including an eight-page booklet with pictures that are as colourful and joyful as the Music itself.
Waste got announced as an EP, but make no mistake, for this album consists of three pieces that last for over twenty-five minutes each! Indeed, seventy-six minutes of duration is not exactly a mini-album. Never mind, as mentioned before, this intellectual sickness is a concept about being a wreck with no wastes to share. Redemption, rétention, attention, conception. Reproduction, copies, coller, voler. Créer, signer, mourir, vomir. […] Un clochard sans alcool, un boulevard sans lumière, un tunnel sans fond, un enfer si sexuel. Laurent plays with words, with phrases, with sentences, explaining the unhappiness of mortal life, translating abandonment, ruination, despair, pain (both mental and physical) and anger, as well as lust, desire, delict, satisfaction and indulgence, through Aural Art of the highest order.
That Aural Art, more specifically, is the Funeral Doom mania. Funeral Doom has many angles, going from droning to atmospheric, from blackened to Doom-Death oriented, and often it does caress my infected brain (intellectual sickness – I promised to go into repetition). In Mourning Dawn's case, it's about all of those angles, and none either. Mourning Dawn's Waste goes further at the one hand, and focuses on the essence of this music(k)al current at the other hand as well. The One I Never Was and The One I'll Never Be (track one and two) explain that wrecked approach, which leaves no waste at all to share with no human entity at all. with the EP's apotheosis, Waste (The Deconstruction Of A Human Being), it gets even more clear. The latter is like an overlaid symbiosis of both first; but I'm going too fast right now ('going fast' and this slowed-down intellectual sickness, it's a great contradiction, is it not).
Mourning Dawn combines hypnotic, somewhat asphyxiating guitar leads with a monumental, pounding rhythm section and wretched vocals. The lead melodies, often of the so-called 'tremolo' kind, are (together with the vocals) the main structure to remember. Sometimes mesmerizing and dreamlike, then again oppressive and afflicting, the guitar riffs create a web, impenetrable, that covers and shroud the listener's brain in some mental prison – the inner eye captured in the deepest and darkest dungeon. The heaviness gets strengthened mercilessly by a colossal rhythm section, including massive bass lines, fine drum patterns and supportive rhythm guitars. All this gets spiced by some (semi) acoustic guitars (not too much, and for sure not of the fake-melancholic kind) and even some (church) bells – truly adorable! As said (and you are smart enough to know this), the speed is slow, very slow, balancing in between mid-doom-tempo to utterly slow – but never the heaviness and intensity fade away by any slower passage at all. there is an extremely grim, obscure elegance going on, courtesy of the vocals (amongst other aspects). The vocal timbre is of the abyssal grunting kind, so intensively expressed, purely blackened and sulphuric – once again an approach towards the DSBM-scene, and intensifying the murky atmosphere. Absolutely impeccable are the few spoken parts, in French. And with that native tongue, it's like giving this doomed experience an additional aspect of mys(t)ery and grimness!
Production-wise, Waste has that factory-alike sound, post-apocalyptic, dense, down-tuned, ominous and industrialised (not like in 'mechanical' or 'electronic', but as in 'oppressive' and 'uncomfortable'). The dissonant structures come to justice by the monumental, overwhelming sound quality, absorbing opacity and gloom, repulsive to decency and vulgarity. The mix is well-balanced, and there's no irritating noise going on, but rather an assailant covering-in-endless-monolithic-obscurity attitude.
Intellectual sickness…