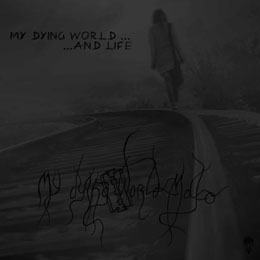 Album Title:
My Dying World… And Life!
Release Date:
Saturday, November 1, 2014
A very young band from Ukraine is this one: My Dying World 'Mako', formed in Autumn 2013 by former DEC'50's Sergey 'Mako' Tereschenko. He wrote some material, and after about ten months, he was joined by Artur 'Shadow' Goncharov on guitars. In mean time also a vocalist was recruited, i.e. Nikita 'Ioria' Eremeev.
My Dying World… And Life! is My Dying World 'Mako''s debut full length, having a total running time of thirty seven minutes. And it seems to be a trend lately, recording melancholic and/or depressive and/or suicidal and/or funereal Black Metal, but I can't get enough of it, at least as long as the quality remains, and as long as this specific scene does not turn into brainless overpopulation or exaggerated trend-following. But it's nice to hear that My Dying World 'Mako' belong to 'the good side'.
In general, My Dying World… And Life! brings rather long-stretched, little repetitive compositions with those ingredients that sort of characterise the scene: highly melodious yet monotonous riffing, sober and melancholic acoustic guitars, a forceful yet, at the same time, modest rhythm section, wretched, painful screams and a lovely rough sound (very raw-edged in this case). But they are distinctive at some points. An example is the addition of spoken words (Faiding Life Line, not misspelled by undersigned) or deep grunts (Crying Fake Soul), besides the little hysterical screams. The latter sort of baptises this material in an ice-cold bath of Funeral Doom-injected majesty. Another remarkable fact is that there are quite some heavy, intense, quasi-harsh parts too. Many acts create a whole construction of slow-paced-only melodies, but in My Dying World 'Mako' case there are some really aggressive outbursts as well. And the positive effect of it is: it fits! I do not want to label this band as 'original' or renewing, because they are not (at all). But it is a pleasure to notice this creative side, without forgetting about the basic lines, the roots of this ever-growing sub-scene (though, it isn't just a 'sub'-scene; it's an independent, stand-alone genre). Also the use of some samples (a bleeping machine, a motor starting up) is, well, let's call it 'different'…
Finally this, but that isn't but a neutral remark: some of the English titles are misspelled. Don't care about it, because that is of no importance to the final result, of course.