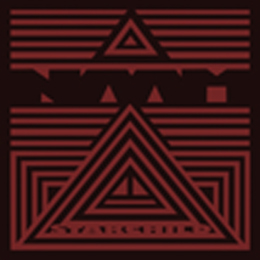 Album Title:
The Ballad Of The Starchild
Brooklyn based Psychedelic Rock band Naam can call themselves lucky! Having formed in 2008 as a trio of John Preston Bundy (bass & vocals, but also piano and synthesizer), Ryan Lee Lugar (guitar & vocals, and also tambura) and Eli Pizzuto (drums), they soon struck a deal with New York based specialist label Tee Pee Records, and as a result saw their debut 3-track EP Kingdom released in April of 2009. Adding 7 songs to that set, the band followed that release up with its self-titled debut full-length in October of that same year.
The album was critically acclaimed by several leading media [some comments : "...Virtuosic bass crunge, ripped jeans, long hair, extended Krautrock blissouts...Yes!..." - Rolling Stone; "...Whatever the level of high, the heavy psychedelic trio drift regularly into echoed and sometimes Crimson-ed-out excursions without loosing momentum or their excellent vintage Stoner Doom groove..." - Stereogum; "...Naam take the trippiest part of your favourite Hawkwind song and stretch it like space-taffy into hypnotic, riff-driven mush...a sucking black hole of reverb and space lust..."], which probably made life a little easier on the band as far as gigging opportunities are concerned (there was at least a tour with Priestess and Early Man in early 2010, and in April of 2011 the band toured in Europe – 20 dates in 21 days, taking the guys through Germany and into Austria, Holland, Italy, Switzerland, France, and England – and I'm sure the band toured or gigged all over the US, or at least the New England area in between). To tie over fans, Naam then covered the songs "Drain You" and "Pennyroyal Tea" for their 2011 released Nirvana Covers EP. Steering away from the band's usual Doom elements, the covers nevertheless got some Naam flavouring, which certainly pleased the fans. Meanwhile, or perhaps since then, the band's been working on new material, which was released in May of last year (yeah, I know...an excuse about the delay is well in place here, and there you hàve it!).
I have to say, for 3 years between albums, there's not really a lót of material, but what IS there is quite delectable, even if a slight step away from the band's debut release. In the case of the EP's opening track "Sentry Of The Sky", the difference comes from an acoustic guitar being put up front. There's still your run-of-the-mill kitchen variety of electrified guitar riffs, but they remain in the background mostly. The ensuing "Lands Unknown" (which together with "The Starchild" makes for the bulk of the album, both songs also being the closest to the material on the debut) finds quite a bit of keyboards played in it, and electric guitar is present, but not as heavy as usual from the band. "History's Son" (at only 129 seconds, the shortest song on the album) sees the use of sitar and exotic percussion being brought in for an instrumental track. The EP's center-piece song "The Starchild" then, lasts a great 11 minutes. Again, the heaviness of the guitar riffs was balanced against lavish organ sounds. Great track, that! The EP's instrumental closing track "Exit Theme" is probably the farthest removed from what Naam's done in the past. In essence, it's a solo for electric piano, with passages of synthesizer added, and overall it's almost (what's almost...?!) an ambient feel! Should Naam fans worry about the band's "usual" musical orientation? Nah...in a way, the calmer tracks are in fact a   nice alternation for the heavier tracks (even if, in the case of this EP, the heaviness was watered down a slight bit), and in essence it fits into the spirit of this conceptual EP. 5 tracks, total length 26 ½ minutes!
To find out what this band sounds like, check out the band's page at MySpace (I saw 4 tracks available, but I forgot to take down just which tracks those were). Oh...before I forget, the band's apparently added a new member to its line-up in the form of one John Weingarten, who'll be handling keyboards, organ and synths...at least in live conditions, I guess!