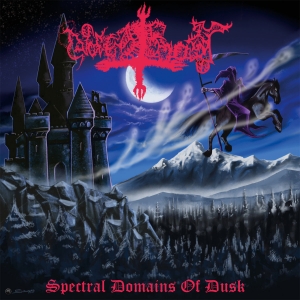 Nachtfrost is the name for a young project from Macedonia (the Greek part, not the FYROM! Krieg!), started by Lord Konrad aka Orthanc. There were some demonstrational recordings, which Orthanc created and performed himself, occasionally helped out by some guest musicians. The very same goes for the first full length album, Spectral Domains Of Dusk, which he wrote in 2016 and 2017, and which he recorded in between Summer 2017 and Winter 2018. On this album, Orthanc was joined by vocalist Necro, singer of the band Egelados.
Spectral Domains Of Dusk is available via the contemporary digital sources, as well as on compact disc. This one, the physical version, comes in a regular jewel case in an edition of 500 copies, with a sober four-page booklet and cover artwork that reminds me, in some way, of the earliest Necromantia releases. I got my copy from Lower Silesian Stronghold (thanks, dearest K., hail to you!). The album consists of seven compositions, having a total running time of almost thirty-eight minutes.
Spectral Domains Of Dusk is a recording that brings nothing renewing at all. On the contrary. But hey, this sounds more depressing and negative than what I actually mean. I do not mind experiencing a lack of originality when the result is at least worth absorbing my time. Well, this surely is the case with this album. The very melodious album is like a tribute to (legendary) bands like Naglfar, The Darksend, In Aeternum, Grief Of Emerald, Sacramentum, Cardinal Sin and, especially, Dissection.
Indeed, all this means that Spectral Domains Of Dusk is build upon a melodious approach with an epic, victorious atmosphere. The album's spine is based on prominent guitar melodies especially, and those guitar melodies carry about the whole structure. This gets spiced by floating solos at the one hand, in support of the guitar-driven core, as well as a down-tuned rhythm section and characteristic vocals. When talking about the rhythm section, I must refer to the quality of this aspect. Even though rhythm and bass guitars aren't 'but' supporting, they do carry away quite an important part of the story. It's like strengthening the elegance and fierceness of the guitar (leads). And then, those drums. Maybe too much 'forward' in the mix, yet the pounding, marching-forward character gives the whole that victorious, proud attitude. When referring to the vocals, I must admit that Necro, even though he is not a permanent part of Nachtfrost officially, did a great job. His throat is rather grunting than high-pitched screaming, yet it exhales a very blackened force for sure. Besides, his pronunciation is remarkably okay.
On top of all this, Nachtfrost make use of few 'clean' vocal parts, some acoustic excerpts – cool indeed – and spherical synth lines once in a while, to darken the whole atmosphere more profoundly. There is a lot of variation too in structure and tempo, including several (semi-acoustic) instrumental interludes (+ intro / outro), strengthening the diverse yet coherent essence of this majestic Black Metal material.