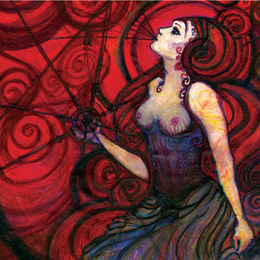 I've got bad and good news. The good news: here is a new Nachtmystium-album! The bad news: it will be Nachtmystium's final release. Apparently Blake 'Azentrius' Judd has some problems with law (theft, rip-off stuff, and contract issues with Century Media), forcing him to bury this band. This swansong sort of is the ideal, ultimate closure for a great era. Thanks anyway, Blake, for having mankind suffered by your aural bleakness, and f*ck you for ripping off people!
So, The World We Left Behind was recorded by Blake with assistance of several session and guest musicians, such as John Porada (ex-Deadnight, Terminate), Sam Shroyer (Hate Meditation), Timothy 'Scarecrow' Preciado (Never We See), Scott Judd (Hate Meditation) or Chris Djuricic Wisco (NovemberS Doom, Jungle Rot). It comes two years after the fabulous full length Silencing Machine (you can still find the hyper-professionally written review, done by undersigned of course ;-) within Concreteweb's Archive-section; check the October 31st-update).
The nine tracks clock about fifty five minutes and opens with the instrumental intro Intrusion. And it convinces as from the very first riffs! It's a short yet grandiose, cold and grim piece, drenched in darkness and malignancy. Then comes Fireheart, which does confuse me a little, for starting with a groovy riff. But once again, Nachtmystium have never followed any trend, doing their own, sometimes very eccentric thing. So is Fireheart, which sounds like a punky Pagan'n'Black'n'Doom'n'Roll-creation, energetic, experimental and distinctive from the grey masses once again. Voyager comes closer to the DSBM-current, with its slow yet very intense riffing, its monstrous rhythm section (Sam Shroyer redefines conception of craftsmanship!), excellent lead soloing (what a fantastic finale), and fabulous semi-acoustic guitars, combining a desolate atmosphere with epic pride. Into The Endless Abyss, the next track (and the longest one with its 8:27 minutes of duration), is different once again, by standing for fast, oppressive and utterly malignant USBM, based on fast-paced and repetitive riffs and rhythms. And this diversity continues. In The Absence Of Existence or Tear You Down dwell within the same spheres as Voyager, being slower and more sober-atmospheric; this first one being based on a great repetitive bass line and a mesmerizing, also slightly repetitive guitar lead, and the latter being mainly slow and pounding, yet oh so ominous, hypnotic and scarifying. The title song and On The Other Side are much more catchy and energetic, epic and up-tempo. And the last track, Epitaph For A Dying Star, has a comparable catchiness, though this composition also contains elements from Atmospheric Black Metal and somewhat poppy Post-Metal/Rock.
The end…