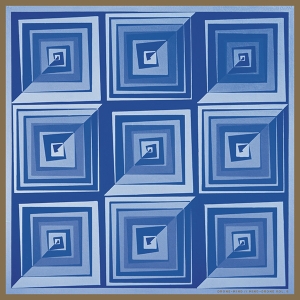 Album Title:
Drone-Mind // Mind-Drone – Volume 6
Release Date:
Thursday, November 30, 2017
Drone Records (and the sub-label Substantia Innominata + related Troum-outlet Transgredient Records) have a lot more to offer than individual releases from notorious artists. In 2011 they started up with the Drone-Mind // Mind-Drone sessions, a series of vinyl split-collaborations with four befriended and related musicians. The first volume (2011) included Jarl, Halo Manash, Ubeboet and B°Thong, the second one (2012) brought work from Yann Novak, Emme Ya, Strom Noir and Karl Bösmann, the third collab (2013) gathered Maninkari, Kshatriy, Exit In Grey and Jim Haynes, the fourth one (2015) compiled material from Jeremie Mathes, Iliou Persis, Roman Kharkovsky and Kirill Platonkin, and the fifth volume (2016) included creations written and performed by Yrsel, Gydja, Clade and Monocube. Some artists I did not know, yet most I do appreciate a lot within their specific genre (FYI: some of their releases have been reviewed, and more will follow soon, like the new split of higher mentioned Emme Ya with Corona Barathri – but that's for later).
The aim of this unique series is not just to make a simple collection of individual compositions by sonically comparable musicians from all over the world. "It expresses an approach to perceive and understand the world. […] The Drone as a metaphor for everything that vibrates, that releases energy - from atoms and elementary particles to the hum of the earth and the universe. The Drone as an entity that connects everything that exists within our own 'mind-space', perception and self."
The label, formed and owned by Troum's Stefan Knappe (aka BarakaH) recently released the sixth split-LP, once again with four mostly interesting artists from the Drone / Ambient scene.  In the vein of the past, the sober yet, at the same time, expressive artwork was done by British artist Pete Greening, printed in an amazing 3-D-alike effect by Tilmann Benninghaus. The vinyl long player comes in a limited edition of 400 copies.
The A-side starts with Sunuxsal by the partnership Nam-Khar. This German collective has been influenced strongly by the spiritualism and philosophy of the Tibetan culture and religion. An example is that they make use of traditional instruments from the Far East, or samples with references to that area. This two-folded piece is like a transcendental, esoteric dreamscape, based on analogue electronics, tribal percussions and subtle sounds that refer to that ethnic Tibetan source of inspiration. It marches on, slowly and intimate, yet confident, guiding the listener on a spiritual trip that expands step after step. Despite a minimalistic, even introvert opening sequence, this composition grows, getting enriched by several layers of synth majesty. This is so beautiful…
Largely underestimated are Markian Volkov from Italy. Here too a tribal element covers the whole package. Battle Ritual indeed sounds like a ritualistic pre-battle hymn, starting with these arousing tribal drumming and percussion. After a while, a doomy, dense and obscure drone joins the ceremony, with a repetitive and highly mesmerizing attitude. It is the most industrialised piece on this sixth volume, and for sure the most oppressive and intense one too. Wonderful once again…
The duo For Kings And Queens, hailing from Berlin, Germany, are not that known (not yet). Besides some self-produced and self-released CDr's and digital singles (amongst which the Living Room Sessions series), they did not offer something 'official'. Their collaboration with the composition Grenzland as opening piece for side B is quite surprising, I think, for this project normally brings rather Electroacoustic / Musique Concrète alike material. This piece evidently includes several elements from their 'core', but I like the fact that they did put more depth in this lengthy track. Special, psychedelic, surreal and unearthly, this amalgam of sounds, samples and synth lines gets canalised into a multi-levelled journey through post-dimensional spaces of the mind. It teases the listener, surprising with unexpected moments – cf. those haunting, eerie female voices or the cosmic sound sampling and distorted drones.
Kevin Durr might be the best-known artist on this split, I think. He hails from Alaska and has been active for ages. He contributes with the successor of Water Drone, which he creates in a very personal and self-invented way. It combines whispered vocals at the one hand, and samples and field recordings from water (all kinds of sources have been used), which ha creates with binaural techniques and the so-called 'Autonomous Sensory Meridian Response' technique. ASMR has to do with a static / tingling skin-sensation, stimulated or triggered by the senses (especially visual and / or sonic). It works, and therefore it impresses.
Drone-Mind // Mind-Drone – Volume 6 is a great collection once again, and therefore highly recommended. And believe me if I say that I can't wait to listen to the seventh chapter (hopefully soon?).