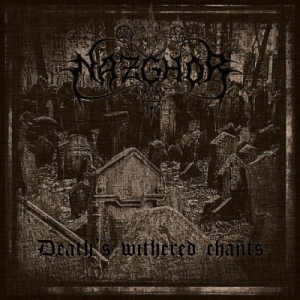 Despite being active for four years only (they were founded in 2012), Uppsala, Sweden-based Nazghor now team up with their fifth recording, after Life Impaled (2013, Nebular Winter Productions / Dead Center Productions), Upon The Darkest Season (2014, Dead Center Productions, also re-released on tape afterwards), Through Darkness And Hell (2014, Metallic Media) and Diabolical Teachings (2015, a co-release of Metallic Media and Black Plague Records). These latter labels (Metallic Media and Black Plague Records) often work together with Satanath Records, so that might explain why Nazghor signed to this Russian label.
I do consider last year's Diabolical Teachings as one of the most impressive releases from 2015, so I was quite excited when listening to this fifth album the first time (as well as the second and third time, by the way). It comes in an edition of 500 copies in co-operation, this time, with Germany's Obscure Abhorrence Productions, but I can't find any information about studio or producer / mixer / engineer. Not that it does matter actually…
Death's Withered Chants opens with a short intro, a classical piece with organ, quite sad, quite grieving, like a church's funeral, accompanied by the sounds of thunder, and towards the end an angelic female voice. Nice, but the real stuff starts with Requiem Black Mass, which is like a modern purification of what once started twenty, twenty-five years ago in Scandinavia. Nazghor's Black Metal is totally rooted in the vein of the more epic and melodic trend from Sweden, and then I'm referring to the era of the first half of the nineties. The whole is extremely guitar-oriented, with multiple layers of guitar melodies, twin riffing and many, excellently executed tremolo leads. That goes for the whole album, and it makes Death's Withered Chants maintaining a high level of bravery and interest throughout this fifty-five minutes' march-towards-glory. I would like to use this description, 'march-towards-glory', to give an impression of the atmosphere: proud, epic, fearless. The Viking blood runs through the members' veins… I once read in an interview that Bathory was a source of inspiration for the band (evidently, for Bathory were, are, and forever will be, the ultimate masters of our scene! Hail Quorthon… Oops, sorry, I was losing myself in melancholy, eternal remembrance of a Hero, but now I'm back into self-control). Music-wise Nazghor do not sound like Bathory at all, but just like that Swedish Kult-act, Nazghor are able to combine the victorious heart of epic glory with hammering heaviness. Blood, fire and death, if you want to… It's not only the guitar parts that make this band so outstanding. The rhythm section is quite an important aspect of this band's presence too. There's so much majesty in the heaviness, and still a certain elegance that focuses on supportive coherence rather than brute violence. Especially within the most slashing pieces, such as Inheritance Of The Cross, the drum patterns are lift up towards highest peaks. But one cannot ignore the truly shrieking, piercing, morbid vocals, spitting acid and venomous flames of hatred. Julian (aka Nekhrid) for sure has one of the most powerful throats from Swedish soil.
Despite lacking originality, it is nice to hear quite some variation. This goes, of course, for the great diversity in tempo. And to be honest, sometimes a band gets better in their faster pieces, then again when slowing down. Nazghor, however, shine in both extremes (and everything in between, evidently). The title track even touches funereal angles, believe me… But another undeniably important and extraordinary aspect is the addition of stuff like some epic choirs (did I mention the words 'Viking' and 'Bathory' before?), acoustic guitar introductions and intermezzi, or subtly, well-supportive synth passages once in a while. Those elements too make a non-original recording profoundly interesting. …besides the fabulous song writing and splendid execution, but that's quite evident…