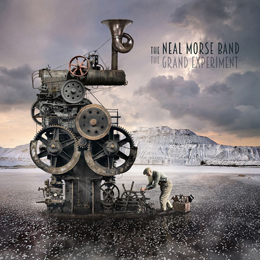 Release Date:
Monday, February 16, 2015
This is the first studio album from the Neal Morse Band since 2012, which does not mean Mr. Morse hadn't been busy in the mean time, because he's released an album with Transatlantic, an album with Flying colours and also his own album 'Songs From November'.
And what does this prog master have I petto for us on this album ?  Well, to sum it up, only five  songs, although it must be said one of the songs is over 26 minutes long,  It also  contains the ubiquitous ballad, and two short, heavier songs.
Contrary to the previous releases of the Neal Morse Band this time the other band members have also contributed in the songwriting.  It still is a typical Neal Morse though, even with the contribution of the other members.  What is a welcome difference is that not all the vocals have been done by Mr. Morse himself, but there has also been some contribution by Eric Gillette  and by Bill Hubauer.  I also have the impression more accent has been laid on the guitars. Sadly enough I only received the single disc edition to review, because on the Special Edition double CD there are two extra new tracks, live registrations from 2 songs, a cover and a DVD with the 'making of'.