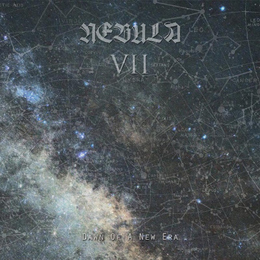 Good and bad news to start with. I think I saw / read somewhere (though I can't remember where anymore) that Kadaath Records (a division of Rigorism Production from Russia) are put on hold, and apparently they didn't release but one single thing in 2014, Nebula VII's Dawn Of A New Era-album. So the bad news is the passing away of such an interesting label, the good news is that we have a new Nebula VII-album! I have no idea how many albums they have done in mean time – Nebula VII have an enormous discography (several of them via their current labels Kadaath / Rigorism and Area 51) – but it does not matter.
Dawn Of A New Era was recorded and mixed in 2013 and 2014, with exception of the bonus track, Echo Of Space Storms, which was originally written in 2011 (this album comes with the so-called Drone Version). Besides an intro and an outro, as well as the bonus composition, Dawn Of A New Era consists of three creations, with a total running time of forty six minutes for the whole disc. And just for your state of mind, the guy behind this project, let's call him VII, is also involved with other grandiose projects, such as Memories Of The Past, Hisstönend or Static Messiah.
Intro (indeed, the intro) isn't but a floating introductional soundscape (not irritating, but rather plain and with nothing additional to add), but Terminal Intensity, Part 1 shows the true face of Nebula VII. It's a long-stretched piece of ambiental and atmospheric sounds, little repetitive and slowly-floating, with rather a soft-atmospheric background than a harsh-droning sledge(sludge?)hammering piece of nastiness. Code Of Life too defines this atmo-cosmic approach, performing celestial Dark Ambient Drones, yet not of the cosmic-electronic or droning-industrialised kind; it's rather the Winterblood / Vinterriket-approach that defines Nebula VII's ambient sounds, inducing hints of Arktau Eos or even Profane Grace if you want to.
Released in an edition of 500 copies only…