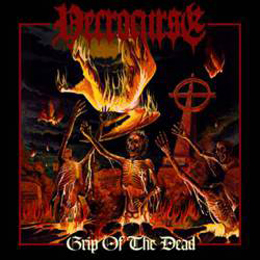 Necrocurse were originally formed in 2004, but it took until 2009 before they really became a serious entity, when the line-up was sort of perfected. One might call Necrocurse a super-band for the members are or were active in a couple of highly acclaimed bands: vocalist Per 'Hellbutcher' Gustavsson of Nifelheim-fame, drummer Nicklas 'Terror' Rudolfsson, the guy behind Runemagick and The Funeral Orchestra (and formerly involved with e.g. Masticator (the one from Uddevalla at the North of Göteborg), Swordmaster, Sacramentum, Deathwitch or Bells Of Doom), guitar players Stefan Rodin (also ex-Masticator) and Martin 'Märda' Andersson (whom you might know from the Black Sabbath tribute band Sabotage), and bass player Johan Bäckman (ex-Masticator / Runemagick).
The band released a couple of EP's at the beginning of this decennium, which were compiled on CD last year (as Shape Of Death via Aftermath Music) and recently they did record this debut full length at the famous Sonic Train Studio with King Diamond / Mercyful Fate guitar player Andy LaRocque behind the recording desk (known for his production / mix assistance for several bands Nicklas is or was involved with, amongst tens, almost hundreds of others).
Brings me, first of all, to the sound. Sublime it is! Even though the whole is perfectly balanced in mixture, the whole sounds rough and raw; it's like an early nineties' mastertape remixed in best conditions. Honestly, I think it's one of the best productions ever done by Mr LaRocque. Grip Of The Dead stands for forty minutes of old styled nastiness in between Death, Black and Thrash Metal. The Black-Thrash Metal part has to do with Per's vocals, of course, while the instrumental part reminds me to the glorious early days of (Sweden's) Death / Thrash superiority.
As from the very beginning of the album, one cannot deny the ferocity and ugliness of the stuff. However, this album isn't just a handful of fierce and brainless headbang-thrashers, yet an ingeniously written and professionally performed collection of magisterial hymns with that something more to distinct from the grey masses (yet, as said before, without betraying the roots of all Evil!). of course it contains many elements from the members' other bands, but it's more like a global vision on the darker regions of rather general Swedeath-oriented brutality from the most obscure, abyssal and demonic underworlds. It's fast, varying from up-tempo to lightning speed-up, with a couple of brutal decelerations, a handful of pounding riffs, and lots of great additions (the cool solos, the proto approach, the grim atmosphere and so on). And besides, the contribution of each single member is of a great professional quality. But the album's approach is not just a collection of personal ego's musical expression; no, the whole sounds cohesive in performance and in concept.
This stuff is not just a recommendation, yet an obligation, for fans of everything in between Runemagick, Grave, Dismember, Repugnant, Sacramentum and Nihilist.