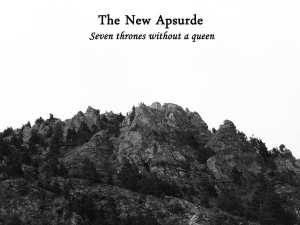 Album Title:
Seven Thrones Without A Queen
The New Apsurd, also acting as The New Apsurde (mind the additional 'e'), is a young collaboration by two guys I appreciate a lot within the Noise / Drone / Ambient / Experimental / Post-Rock (and so on) scene. There's Marko Jovic, from Croatia, who's the guy behind acts like mighty Antisocial Block and Xtematic, or Asimonde, SR90 and Re_a. The other one is a sympathetic guy I came in touch with last year: Arthur Arsenne. He runs Death Carnival Records and, more recently, Arsenic Solaris, and he's involved, solo and in collaboration with other artists, in e.g. Lands Of Conifer, Mitantecuntri, L_Arsenne and several co-operations. Please enter this guy's name, or the name from one of those projects or labels to find out more about them (I did several chronicles in mean time, and there will be more in the future!).
So, both guys decided to work together under the The New Apsurd moniker, with Seven Thrones Without A Queen as result. Both of them took care of song writing and performance (in between 2014 / 2015), production and mix, with Arthur in charge with the mastering at the one hand, and photography at the other, and Marko taking care of the artwork. The result gets released via Arsenic Solaris as part of the handmade series collection in an edition strictly limited to 50 copies. It comes in a recycled sleeve and a four-page booklet with somewhat sober yet truly beautiful photography / artwork (courtesy of both musicians involved, as mentioned before).
The first awakening on the album, called The First Awakening (sorry, stupid joke…), immediately sets the tone for the whole album (which has a total running time, by the way, of around forty-seven minutes). Organic soundscapes get joined by low-tuned, somewhat pounding electric strings, slowly building up, evolving towards a modest climax. Despite a certain minimalism, this material sticks to the listener's attentive character. Second piece Fury goes even further, mingling noisy guitar experimentalism with down-tuned riffing and harsher guitar-played stuff. Here too, and actually this goes for every composition on Seven Thrones Without A Queen. The third creation is called Old Priest, and with its nine minutes of length it's the longest piece on the album. It starts quite bizarre, with a collage of sounds, field recordings, noises and (vocal) samples. After about three minutes, everything turns towards something like a warlike scenario, like a soundtrack for an archaic post-war landscape. Here the injection of Marko's qualities as Noise artist are so evidently and (un)naturally perfected, combined with Arthur's sense of experimentalism. Dead Dogs And Ghost Lion is my personal favourite. It's based on ultra-heavy guitar lines and ear-piercing noises; it's the most intense / intensive Drone track with such a fabulous suffocating atmosphere. Majestic is a fitting description, to my opinion. And the album goes on in that very same sphere. Experimental moments, hammering elements, minimal nihilism, weird soundscapes and subtle aspects and hints from Noise, Drone, Post-Rock, Dark Ambient, Field Recordings and related genres are combined into a great symbiosis, somewhat hard to digest, but glorious in an intellectual sense.