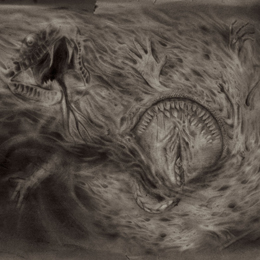 Album Title:
Into The Womb Of Dissolving Flames
Sundsvall, Sweden-located band Nidsang was formed ten years ago as Lammoth, but very soon the current moniker was chosen. The band recorded a demo somewhat later on (ingeniously called Nidsang, and released via Sadolust), and the members started recording material for what would be their first studio album. Originally this stuff was meant to be released via Sadolust too, but thing seemed to turn out differently due to various circumstances. Finally, the band signed a deal with Drakkar, at that time one of the most promising labels, and the debut full length, The Mark Of Death, got finally released in 2007. Via that very same label, Nidsang released the highly appreciated two-track EP Streams Of Darkness one year later on. Then things went silent for a while.
However, in 2012 the band entered the famous Necromorbus Studio (recording and mastering; the mixing was taken care of at the Wing Studio) once again, with producer Sverker Widgren at the helm (think: Setherial, Lightning Swords Of Death, Withershin, Mastiphal, Machinery etc.). In mean time, the band was able to sign to another notorious label, the Singapore-based Pulverised. First outcome of this co-operation: Into The Womb Of Dissolving Flames.
Into The Womb Of Dissolving Flames is a forty three minutes-long seven-tracker (with songs in between four and eight minutes of length) that shamelessly (read: luckily) goes on in the vein of the former efforts. It stands for that specific kind of fast, fierce, furious and firm Black Metal à la In Battle, Sorhin, Setherial, Necrophobic, Watain or Blot Mine, though the likes of French acts in the vein of Antaeus, Arkhon Infaustus or Vorkreist might come to mind as well, I think. It's energetic and power-driven, with great leads, a couple of majestic solos, deep-throated screams and a very, very heavy rhythm section.
Despite the mainly speed-up tempo, the band adds some tempo-changes, with inclusion of slower passages, and I do think it was necessary, and a surplus for sure. The power-driven rhythms are performed with a focus one balance melody-aggression, and that too isn't but something I cannot but hail. Damn yeah, sometimes it does sound too heard-it-before, or too evident, and the production too is way too neat and tidy. Fortunately the quality of the songs, and this really goes for every single piece, is of a high quality. The performance too, by the way. Otherwise this album would have been 'one in a row' with no reason to exist. Makes me concluding this review this way: recommended if you do appreciate the comparisons I mentioned in the former paragraph. I you do not get cold or warm from any of those acts, you better skip this shit.