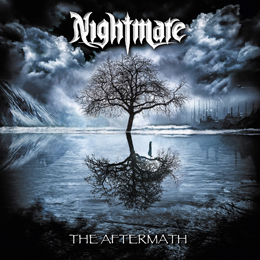 Line up :
Jo Amore (Lead Vocals)
Franck Milleliri (Guitars)
Matt Asselberghs (Guitars)
Yves Campion (Bass & vocals)
David Amore (Drums)
Already the 9th album for the French veteran-band 'Nightmare'. You can't find a more traditional band in the heavy/ power metal than 'Nightmare'. After the reunion in 1999, the French band delivered one solid release after another. The new album 'The Aftermath' is full of creativity, with innovative guitar parts that are sung together by 'Jo Amore'. If you don't know that it's a French band than you would guess it's a Scandinavian or a U.S. power metal band (such as Iced Earth).
There are some enjoyable songs on 'The Aftermath' such as: 'Ghost In The Mirror' and 'Necromancer' who mainly linger trough the fine main riffs. Occasionally there are thrash influences in some of the songs, without pushing the song intirely into the 'thrashy' direction.
Nightmare can count themselves gradually into the European top of the heavy metal, it is definitely recommended.
Tracklist :
01. The Aftermath (Intro)
02. Bringers Of A No Man's Land
03. Forbidden Tribe
04. Necromancer
05. Invoking Demons
06. I Am Immortal
07. Digital DNA
08. Ghost In The Mirror
09. The Bridge Is Burning
10. Mission For Good
11. Alone In The Distance