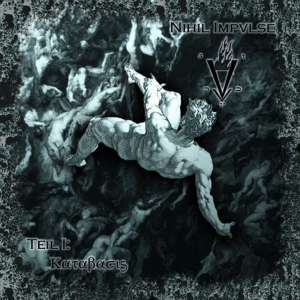 I would like to refer to my review on Stasis (https://www.concreteweb.be/reviews/nihil-impvlse) if you want to investigate about the history of this great project by Francesco Di Stasio.
This review deals with the debut-album by Nihil Impvlse, which was originally released in 2009/2010 in order to chart the void of existence. Teil I: Katabasis (actually written with Greek letters, so it must be: Καταβασις, for the purists amongst us) was supposed to be the first part out of three; a trilogy 'exploring deprival, isolation and loss, the subsequent inert decay, and the final anabasis of recrudescent hatred'. As X, Francesco recorded the material (i.e. 'all electronics and samples, analog treatment and high frequencies vandalism') throughout different occasions in the period 2005 until 2007. This human entity also took care of production and mix (Void Fraktion Studio), as well as the layout of the visual art. The result is a carbonate digipack, very limited, with stunning artwork taken from the works of Pieter Paul Rubens (Fall of the Damned, back-cover) and Hendrick Goltzius (Fall of Icarus, front-cover).
The result is a three-piece album - the three tracks being entitled as Katabasis Part I, Part II and, indeed, Part III - having a total running time of just over half an hour. It was created with a low-frequency attitude, lo-fi decompromised (a neologism, the opposite of compromising, and going further, and bleaker, than 'uncompromising') and primevally digitalized.
The first part opens very militant and obscure, with martial-sounding patterns of percussion and abyssally-deep and haunting drones. But soon, smoothly yet persuasive, other elements join: sounds, noises and samples from various sources. These ones are, as stated by the project, taken from 'weird criminal speeches, old expressionist films, sleazy 70's smut, black box recordings of mysteriously crashed airplanes, dusty piano tapes, recorded suicide notes, and more'. It does strengthen the abstruse and anxious character for sure. Anyway, to come back on that first piece: it is somehow minimally and nihilistic in essence, yet at the same time so rich and exciting. The whole gets covered in an asphyxiating ambience, veiled in a thick, airless and lightless nebula of oppressive grandeur. Towards the end, things grow into mostly grim and lurid proportions, when the basics of Black Ambient brutally get penetrated by elements of Harsh Noise and Death Industrial.
The second part, which is the shortest one out of three, immediately disturbs by assaulting with a Power Electronics fragment, sadistic and malicious in nature. Yet soon the suffocating atmosphere takes over the sonic journey, delving deep into the pitch-black pits of a mostly lugubrious state-of-mind. A morbid ethos it is, as inclement as diversified. Things continuously change, evolve, grow and decrease. How wonderful it is to add that divine choir in full contrast and counterbalance to the disordered and discordant tones of destruction, deterioration and disgust.
Somehow combining the very same aspects as both former parts, the third Teil once again separates and amalgamates contradistinctive elements. With a purely hypnotic attitude, Katabasis Part III takes it aural sources from the darkest regions of Ambient, Drone and Industrial with agitating and provoking samples, apocalyptic sounds and tantalizing noises. It does have an introspective touch of comprehension and acquiescence, as well as an eccentric, explicit articulation of external disdain and contempt.
Teil I: Καταβασις however must not be seen as a 'three-track-album', yet rather like one story divided into three cohesive chapters. It brings visions of cataclysmic devastation to mind, a definition of deprived ideas and perverted thoughts, post-nuclear landscapes or ruin and death. Yet still, there's a hidden beauty behind these sinful constructions, a sonic supremacy of aural satisfaction that characterises this memorable album.
And purely for your information: expect a review soon on Filth Colossus, another magisterial outfit by Francesco Di Stasio!
https://nihilimpvlse.bandcamp.com/album/teil-i-katabasis
https://www.concreteweb.be/reviews/nihil-impvlse