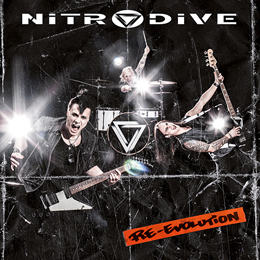 Line up :
Albert Norberg - Guitar
Robert Johnson – Bass, Vocals
Johan Gren – Drums, Vocals
NitroDive are finally back with their second album 'Re-Evolution'. The album is recorded, mixed and produced by the Swedish Grammy award winner Thomas 'Plec' Johansson.
Raw, distorted and explosive. In the making of Re-Evolution we have applied what we learned from being on the road for so long and managed to create a garage rock album with killer melodies and utmost intense play  NitroDive
Their debut album 'Survival of the Fittest' went straight to the top of the Hard Rock top list . The living hard rock legend 'Danko Jones' contributed by singing back-up vocals on the single 'Get Out of the Way' and the track was frequently played on radio stations around the country. The band has been touring in Sweden and Europe with bands like Crucified Barbara, Hardcore Superstar and Arch Enemy. NitroDive is the given choice for those who like stripped back Rock/Alternative music.
Track list:
1. Re-EvolutionIE
2. Dance
3. Back To Stay
4. Dead Or Alive
5. Someday
6. Woman
7. Wake Up
8. Bad Blood
9. Because Of You
10. Dying To Live