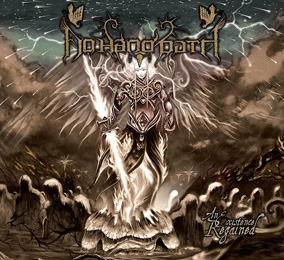 Release Date:
Saturday, December 27, 2014
In a couple of days I will write a review for a new Varathron-album, Untrodden Corridors Of Hades, but this review deals with five-piece No Hand Path, which consists of two Varathron-members, i.e. the brothers Haris and Sotiris Kokkinos, performing drums and bass respectively. The other three members, to inform you correctly, are guitar players Antonis and Vasilis, and singer Ramin, who runs the new label Radiant Eye Rex (look out for the upcoming tape of Ugly Joe, an act that also includes Ramin, by the way).
No Hand Path were formed in 2006, and soon after their birth they did release a first (and sole) demo. The quintet started writing and composing material for a debut album, which was eventually produced, mixed and mastered at the Revolting Sound Studio with Alexandros Kakaroumpas.
An Existence Regained is a remarkable piece or Dark Aural Art. First of all, the artwork: awesome! It was done by a guy called Stathis Karabateas (known for his paintings / drawings about fairies, elves etc., yet also active as animator for animation movies such as Quest For Camelot, Space Jam or Rugrats Go Wild), and each drawing is a unique piece that perfectly translates each single composition it is related to into a visual experience.
But of course, it is the musical side that is of importance, and that too is very unique. An Existence Regained is a one-hour experience, divided into three epic chronicles, each of them consisting of three tracks. It is a 'story of the one who died by his own hand to create someone greater, the self destructor, the self creator'. The lyrical concept is not necessarily original, but I've not often read such a convincing, unique work! Great. And the titling of both the triptychs as well as the individual songs (with sub-titles) is magic as well as majestic!
Then, the musical part… An Existence Regained lasts for an hour, but since it's highly intelligent and enthralling, it might have last much longer, I think. Though, and don't ignore my warning, it is a heavily-digestible one-hour trip for sure. The album starts with the To Be Reborn-chapter, opening with Birth Of Consciousness (Most Sacred Child Of Every New Beginning.) (with its three minutes of length the shortest piece on this album). As from the opening riff on, I was convinced by this band's ability to create highly unique stuff. Birth Of Consciousness … initially combines haunting melodies (what a fine and hypnotic guitar riff!) with a harsh yet doom-paced rhythm (my compliments for the drum work!) and clean vocals, little soaring and yammering, but I think it's very unique. Besides, there are some blackish screams carefully mingled, strengthening the obscure atmosphere. Birth Of Decision (Everything Must Be Rebuilt.) shows another side of this band's craftsmanship. This track starts blasting fast, with massive drum patterns, guttural screams and a very technical execution – listen to those slamming riffs and eerie guitar-screams. After about two minutes, this sonic assault suddenly, yet organically, slows down, transforming into a progressive acoustic part (say hello to the Scandinavian Avant-garde-scene, including the melodious vocal lines), before evolving eventually into a hammering, mid-tempo based piece of nastiness, soon returning to the initial Blast / Black / Tech-Death massiveness. Oh yes, mind the cool bass lines too (and don't laugh with me, but I think there is quite some influential craftsmanship courtesy of Steve Harris). Birth Of A King (I Will Destroy. I Will Rebuild.) differs once again, and not at the same time. The opening sequence is doomy and suffocative, but this track too, of course, varies a lot in structure and speed. And this: I am usually not that profoundly 'into' Prog stuff, but here I think it isn't but a surplus. The techniques used differ from the traditional approach, lacking of modernistic gadgets or following brainlessly executed trendy structures. It makes No Hand Path distinctive from the grey masses for sure. This three-song chapter is the most Prog-oriented on the album, by the way, though the progressive details do come back more than once.
Anyway, the next triptych is called To Be Awake, which is more tribal than the first one. Quest Of The Traitors (Spiritual Masters Of The Human Race Gather Around!) is the first composition, with basic elements that are deeply rooted in the Second Wave current. Global details are a fast and repetitive rhythm section, massive guitar riffs, haunting leads and vile screams, yet of course it contains different elements too. Examples: the additional vocal experiments (spoken words, tribal-shamanistic chants, melodious choirs…), or the slow, almost sluggish-sludgy intermezzo. Quest Of The Deceived (End Of The Slumber. No Longer The Deceived.) opens with riffing so profoundly inspired by sonic dissonance, includes esoteric chanting comparable to the first part of this chapter, and there's a big deal on progressive clean singing too. And Quest Of The Noble (Once Upon A Time There Was An Empress Called Religion…), the third composition of To Be Awake, is very much Nordic in structure and performance. Then I am referring to the Norwegian scene especially, as well as the French and Canadian ones. This right-in-the-face track comes with an unstoppable pounding energy and mesmerizing tremolo leads, covering the whole into a grim, asphyxiating nebula.
The last part of the trilogy, To Be Complete, is the least progressive one out of three. It commences with The Deepest Journey (Look Inside. Stand Up. Fight.), which starts fast and furious (cf. the Nordic approach I mentioned before), and contains a fabulous intermezzo, a fantastic symbiosis of introspective integrity and technical creativity. The Darkest Journey (Choose Your Side. Always.) is the spookiest track, I think, with both clean and screaming vocals and grandiose breaks and tempo-interchanges, but for sure it is the most epic one too on An Existence Regained. Once again the scene from Norway comes back to mind, yet then I am thinking about the more Pagan / Viking-oriented one, of course. Also the instrumental closer The Longest Journey (A New End. A New Beginning.) is rather epic in approach and execution, with quite an important role for acoustic guitar leads in the first half and towards the end. It's also the most depressive and funereal composition, which explains this track's sub-title to the core.
Conclusion: remarkable! Everything fits on this album, but what's more: every detail, whether it is the aural or visual part, the sound, the lyrical concept, it is one complete multi-layered sub-dimensional [oops, I'm losing self-control]… No, I am just impressed by such creativity and professionalism. There must be a successor, soon! Parakaloo!