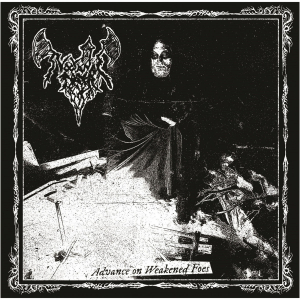 From the cold, stormy Atlantic shores of Canada, please bid welcome to Nocturnal Prayer, a trio that gathered to spread evil, blasphemy, misanthropy. Three human (I guess) entities, being Murder (all strings), Nausea (drums) and Cancer (chants), joined forces under the blood-dripping flag of Nocturnal Prayer. These fine pretty ones recorded two demonstrational recordings, being Grim Sermons Of The Nocturnal Prayer (self-released at very late Autumn 2019 in digital form, and re-released on tape in January 2020 via the hugely underestimated label Extinctionist Records) and May You Lay Waste To Astral Gods With Star Disintegration (self-released via digital sources in very early February 2020).
Enter Inferna Profundus Productions, a fabulous Underground label, dedicated and devoted to the Underground (and that's why I – and the Concreteweb label – play the same game). Inferna Profundus Productions and Nocturnal Prayer decided to have both digital demos collected and released decently and physically, and this under the Advance On Weakened Foes banner. The compilation got printed in an edition of 300 vinyl copies (250 black and a limited edition of 50 copies on white vinyl), matt laminated, and with black-and-white cover artwork that reminds me of the earliest years of the so-called Second Wave.
Side A consists of the five pieces of, as said before, the Grim Sermons Of The Nocturnal Prayer demo (November 25th 2019), clocking about twenty minutes. And hey, did I mention 'second wave' at the end of my former paragraph? Indeed, this is the purest essence of sonic evil, the monumental and, above all, primal entrance to the scenes of Old, the roots of blackened aural terror in all its glory.
This material is remarkably melodic, constructed around a vitriolic energy (just enjoy the short assault Alignment Of Skulls to explore and undergo the brain-smashing, skull-crushing mania) and a morbid atmosphere. The speed differs a lot, with up-tempo parts as main basics, yet with several faster and slower excerpts too. The whole exhales the primitive, nihilistic – and malicious / violent / merciless / frenzy – attitude of the scene about three decades ago, when the Nordic 'trend' was conquering the virginal audience all over our putrefying globe. This goes back to the origin, to the basics of the pestilential grotesquery called 'True Black Metal'.
As said, the better part is quite fast and energetic, as well as melodious. The guitar leads and the deeply sulphur-spawning voices get powerfully strengthened by a firm rhythm section, pushing limits, trespassing boundaries, yet honestly sticking to the original structures and atmosphere. If you expect anything renewing, or something modernistic whatsoever, you'll be f*cked. But I am thrilled, aroused, ablaze, by the primal essence performed right here. Okay, there is no originality at all – what else did you expect – but then again this material sounds so pure and true, it is well-written and well-performed, and it defines 'Black Metal' as it must be defined in its purest form.
And on top of it, once in a while, you have those little extras, like the keyboards at the end of Basking In Corporeal Destruction. Or what about the cover of a classic by another great act, in this case The Last Supper by France's Black Murder (which was part of the Les Légions Noires collective), taken from their Feasts demo tape.
The B-side of Advance On Weakened Foes comes with the five lullabies from May You Lay Waste To Astral Gods With Star Disintegration (initially independently and digitally released on February 3rd 2020), which clocks twenty-three minutes and something. For the better part, it goes on in the vein of the first recording, but you somehow feel a slight progression, an increase of technical execution somehow. It might less thrashing than the first demo, and modestly more epic when talking about the melodic structures.
At the same time, there is little more variety, in both song writing / structure and execution, and on this demo too, Nocturnal Prayer come up with a remarkable cover interpretation; this time it's the Moonblood hymn Blut Und Krieg, from their so-called album. It's an excellent choice, for it goes very well with the increased epic approach of this second demo.
Highlight might be Echoing Thine Molting Might, which is a symbiosis of all excellence (sound, song writing, execution and atmosphere), canalised into one huge epos of epic majesty and timeless excellence. What a blasting drum thundering, proud leading riffs, convincing screams and heavily supportive bass lines. Thrashing and blackened to the core. But hey, that doomed opening excerpt from May You Lay Waste To Astral Gods With Star Disintegration, for example, with a feverish hellhammering attitude, is at least as orgiastic, to name just one of the several moments of sense-satisfaction.
The sound quality of both demos, of course, is surgically clean. Eh, I mean, the production stands 180 degrees away from clinically decency. What else did you expect. Of course, the sleazy roughness and unpolished grimness are the only kind of sound that one can tolerate. And damn yeah, it is filthy and raw for sure. There has been no remastering whatsoever (discussion: would that have been a priority, an opportunity?), but since Advance On Weakened Foes is a compilation of demonstrational recordings in a specific (great) genre, I did not want any embellishment. A (new) studio album would ask for a tiny improved mix / production, I guess, but not this time.
https://www.ipr666shop.com/nocturnal-prayer-advance-on-weakened-foes-lp
https://nocturnalprayer.bandcamp.com/album/advance-on-weakened-foes