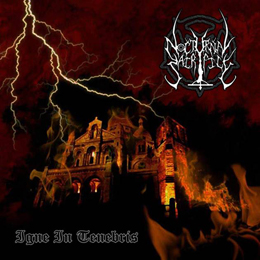 I was aware of an act called Nocturnal Sacrifice, because of their Evil Invasion-EP (from 2010). But apparently there is a Mexican band too with that moniker (the one I knew hails from Peru), formed in 2009. They have one recording on their discography, Igne In Tenebris, which they did release independently in October 2013. Because of the quality of that material, Cold Raw Records, being one of the most interesting young labels lately, decided to have this stuff re-released, about one year after the initial self-release. All together: 'thank you, Cold Raw Records'… But (there must be a 'but') it is limited to an edition of 150 copies only, so hurry up!
This five-track EP was recorded at the Black King Records Studio by bassist / vocalist Sorath (who left in mean time), guitar player Tyrant Wolf (doing the vocals now as well, since Sorath left), and drummer Siniestro. And in twenty two minutes they bring winter landscapes, thoughts of misanthropy and blasphemy, and feelings of hatred and disgust in the listener's mind.
What strikes me is the Scandinavian approach. Okay, there are some more bands from South and / or Central America that are inspired by the Second Wave-majesty, yet most of them have that primal characteristic approach that once typified the likes of Mystifier, Sarcofago etc. Nocturnal Sacrifice, however, inject their grimness with Norwegian and Swedish influences. This gets translated via several things. For a part it has to do with the melodies. Several tremolo leads breathe the essence of the earliest Nineties, combining epic and pride at the one hand, and melancholy (not the sad, desolate side of melancholy, yet the search for tradition) at the other. Also the sound is very much Second Wave-alike. It has to do with the performance, of course (cf. the varying yet strongly supportive rhythm section), yet for sure it can be defined by the raw and unpolished, yet magnificent production.
Nice is the diversification, despite the lack of being renewing. It goes, at first, for the speed, with a range in between pretty slow over up-tempo to almost blasting. In each case the band maintains its melodic approach. Another nice example of Nocturnal Sacrifice's variation is that melodic thing I just mentioned. And then I am coming back to the Scandinavian influence. Being compared to both the Norwegian and Swedish scene explains a lot, since they are largely separated in style. So it is that this band sometimes can be compared to the likes of Dark Funeral, Setherial or Marduk, then again to bands like Immortal, Tsjuder and Gorgoroth.
As mentioned above, Sorath left, and the two remaining members recruited three new humans (at least I guess they are). It makes me wonder if Nocturnal Sacrifice will succeed to go further on this path. At least I do look forward to hear more from them.