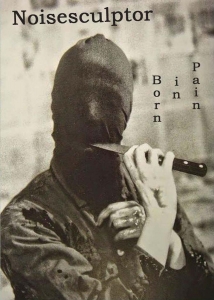 Róbert Sipos, a Hungarian artist, is known for his passion for Techno Music, being involved in international events and raves as organisational collaborator, scene promotor and DJ (including radio shows). He acts as musician too, under the monikers ROBotron and Noisesculptor. The latter is an enormously productive outfit by Róbert, with tens of releases on prominent, influential labels, like mighty Attenuation Circuit, Zimmer Records (actually known especially for his ROBotron releases), Audioexit Records, Human Cross Records, or Spain's finest Craneal Fracture Records. And it's via this Spanish label, run by Jose Murcia, that Noisesculptor did release a handful of recordings in the past. And this goes as well for Born In Pain, which this review will deal with.
It's a lengthy six-track studio album, clocking about seventy minutes, that arrives in a DVD-box without any information (recording information in general), except for the titles of those six hymns, and some attractive pictures. My guess is that Róbert took care of most things (song writing, performance, production and spiritual guidance)…
I might have scared you with the description of 'Techno', which is a musical style that rather refers to discotheques, clubs and (underground) raves. Acid, Trip-Hop, House Music, Breakcore, Dub Step, Drum 'n' Bass and New beat are often related to this genre. But in Noisesculptor's case, the approach is closer related to the likes of IBM, Electro, Industrial and Ambient Noise. Check out opener Broken Soul, for example, which is like a hypnotic electronic Techno / Industrial ritual, dense and dark, mesmerizing and even asphyxiating. Repetitive drones and pounding beats get permanently injected by industrialised noises, creating a trancelike atmosphere. It's like a hybrid of Brighter Death Now and MZ.412, yet with an own characteristic elegance. The next track then again, called Depressive Idea, and this actually goes for all pieces, is comparable, yet then again quite different too. Depressive Idea rather breathes an emotion of introspective melancholy, and, at the same time, explorative extraversion. The composition is enormously rhythmic, despite its mechanical execution, and totally energetic and exciting. Soaring noisescapes, ritual percussion patterns and eerie synth lines are mingled with wretched sounds and horrifying (vocal) samples, creating a dimension of mortal oblivion and depressing emptiness (despite the richness of the sonic execution). Faxé 10% (what's in a name…) is quite psychedelic and cosmic in its performance. Elements of Psybient, Ambient Noise and (Death) Industrial are interwoven in an organic way, resulting in a mind-trip towards dimensions both psychedelically multi-coloured, and abyssally obscure shaded. Mutilative screeching goes hand in hand with dreamlike (read: nightmarish) waves of sound, and it's both uncomfortable as well as turning on. Totally different, yet once again with a same-minded spirit, is Formless, which might be the most hypnotising and bewitching chapter on this album. Astral electronics, haunting percussions, industrial drones and trancelike soundwaves are channelled into a journey towards huge, formless dimensions (hey, the title makes sense!), untouchable, endless and unreal at once. This piece slowly, very slowly, yet intensively in an ominous way, builds on, step by step, avoiding any form of escapism. Seriously, this material plays with your intelligence. Mind Reconstruction is like a mind deconstruction, deforming and twisting in the vein of huge Black Industrial dimensions. Dark-droning ambience is the keyword, digital torture the covering, post-apocalyptic malignancy the definition. The harsh mechanism of Mind Reconstruction is, at the same time, ritual / spiritual, as well as ultimately scarifying – and that's quite an impressive equilibrium, especially while being executed in a natural manner. The last creation, finally, called Noise From Jungle, is even harsher than most other sonic constructions. Convincingly crossing the border with the Ambient-Noise area, Noise From Jungle expresses the fierce reality of mankind's stupidity (to my opinion). We're nothing but parasites, sucking life out of Mater Terra, with nothing left for next, or current, generations. This 'song' is meant to punish you for being a human. Ha! No, seriously, this is the kind of noisy Industrial Music that reminds us of our pathetic existence, evolving into someone's exhaustive knowledge and recognizance of mental superiority. At least, that's how I do experience this chapter (in all modesty…).
So, connoisseurs of this project might be surprised once again by the well-thought structure of Born In Pain. And those being virgin when it comes to Noisesculptor must give this stuff a try. I recommend several tries, for there is too much to experience at once. But you'll be surprised by the rich, decadent result for sure. We're all born in pain, so recognize it!