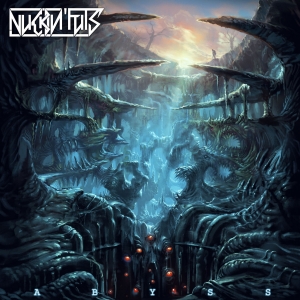 Catalunya has a lot more to offer than cava, separatism, Escupemetralla, Gaudi and overcrowded beaches. It's home to Nuckin' Futs too, a cheerful combo from Barcelona that was formed in 2012, and named after a fragment from some highly intellectual movie from 2003. Quite soon the band came up with a first self-released EP, Evilution (2013), and in 2014 they released the debut full length Slavery via Fair Warning. Then things went silent, but Tolo (v), Joao (g), Sergio (b; new in the band since 2016 or so), Hèctor (d), and Oscar (g) entered the studio to record the sophomore full length album.
Abyss was recorded and mixed in their home city, at the AXtudios and got mastered at the isle of Mallorca by Miquel 'Mega' Riutort. The band signed to Blood Fire Death (hail Quorthon forever!) for the official release of the album, which comes with scarifying, Lovecraftian artwork by Pär Olofsson in his typifying style (think: Enfold Darkness, Immolation, Winds Of Plague, Abysmal Dawn, Iconoclast, Aborted, Pathology and many, many more eye candy…).
This new album is an eight-tracker that lasts for thirty-seven minutes. It goes back to the Eighties, when the Thrash Metal scene was born, and grew up unto one of the most influential Rock genres, back then and still now. Nuckin' Futs do pay tribute to the earlier scene. Overkill, Vio-Lence, Municipal Waste, Testament, Exodus, Hexx and the likes – it's just an idea, a direction to give. Even the earlier works of Metallica or Megadeth might have inspired this band.
The song structures are based on guitar-oriented melodies especially. But both song writing and performance of those guitar leads are enormously technically developed. Seriously, those leads and riffs combine the essential traditional elements, the typifying dual and tremolo leads, yet a hugely progressing technicity too. That's fine to notice, for it makes the band not 'just another' Bay Area clone. It creates an own identity. Besides, they do perform it with such grandeur, conviction and persuasion… The rhythm section too is like it uses to be / used to be: strong, firm, pushing, yet still elegant. The rhythm guitars and bass guitars are so supportive for the leads, and because of the grandiose production, they are not just limited to subservience. The drums are even more prominently presented. Hèctor hammers and pounds, yet without stupid exaggeration. Fine to hear that combination of intelligent pudency and expressive joy-to-play. Tolo's voice, then again, is of the hysterical kind. But once again, for this specific Thrash-approach, it does totally fit. Technically high-standard Thrash madness needs a mad voice, so there is no reason to dislike his shrieking throat.
Besides the 'usual' stuff (not meant negative, for the overall quality is high), the band comes up with some unique excerpts, showing their ability to write, and execute, in a professional manner. The opening riffing of the title track, for example, is simply top-notch: progressive yet modest. Actually, almost every single piss on this album, sorry, I mean 'piece on this album' (no piss, no peace either!), has one or another outstanding thing, somewhere, somehow, showing the skills and qualities hidden behind the Nuckin' Futs banner. So, if you like your Thrash Metal energetic, rapid, merciless, and smoothly combining Melodic with technical, and traditional with progressive, then you have to check this beast out! My f*ckin' nuts, this thrashes my balls out of my pants!
PS: hail Quorthon forever – but that's another thing…