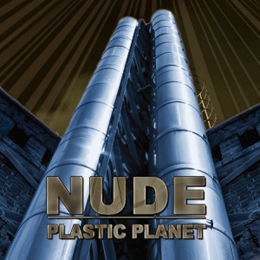 Italian five-piece Nude were formed by two Metal artists, former Undertakers bass player Antonio Pucciarelli and guitarist Fabio Calluori (of Electrocution / From Depths and Heimdall-fame), and (unknown to me) vocalist Tom Capuano (aka Tommy Box) in order to express their passion for something completely different from Rock or Metal: Electro / Goth Rock / New Wave stuff. At the very beginning of this century, when the band recruited two new members (Fabio's brother and colleague in Heimdall and From Depths, Nicolas on drums, and another Heimdall-member, Sergio Duccilli, as keyboard player), Nude released their debut Cities And Faces through Scarlet Records and then things went silent.
Apparently the band has never been on hiatus completely, but it is a mystery why they did not record new material in mean time. But don't worry (at least if you care about this kind of material), because the sophomore album is now a fact.
Plastic Planet brings a mixture of poppy electronics, modern Indie Rock with some heavier guitar parts, Gothic-oriented Metal (not of the orchestral, often female fronted kind, yet rather in the vein of some Moonspell / Paradise Lost stuff), eighties-oriented New Wave, and easy-listening Goth / Dark Rock-oriented melodies. The whole sounds (terribly) catchy and radio-flirting, and the major part has been presented with a safety that completely lacks of balls. That's a pity, because I cannot deny an apathic boredom or pathetic puerility. At the other hand I think the variety in between the songs is an enormous surplus, because otherwise I wouldn't / couldn't / shouldn't listen to this material a couple of times. That's why I won't use the word 'mediocre' either. And let's be honest; even though you might dislike (commercial, hit-potent) Pop Music (because this isn't but an Indie / Electro-oriented form of Popular Music), you won't be that malignant to consider Plastic Planet an unforgivable turn-off, will you?