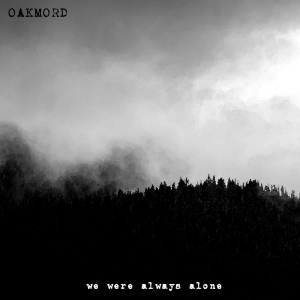 Release Date:
Thursday, December 24, 2020
Wroth Emitter Productions is a Russian label, founded by Alex 'Curche' Pyshkin, who is also active as lyricist / chanteur in the Doom-Death act Halter. It's a small and modest label, despite a long time of existence / experience. Quality above quantity, you know. Anyway, a stunning release they are responsible for is We Were Always Alone, the debut of the Finnish-German duo Oakmord. It was actually formed in 2019 by former My Shameful frontman Sami Rautio (also known from the intriguing solo-outfit Kadotettu). Sami (lead vocals and strings) wrote some material for this new project, and he recruited his former My Shameful colleague Jürgen Fröhling (also involved with e.g. Unmercenaries and Absent/Minded, or the new act Sunday Of The Dead) to perform the drum parts.
We Were Always Alone is the first result of this new collaboration. Everything got recorded, produced, mixed and mastered by Sami (the drums, by the way, were registered at the M.K. Bamberg Tonstudio, based in Germany, home-country to Jürgen). The album was initially released independently and digitally in February 2020. Than, however, Alex from Wroth Emitter Productions decided to give this material a decent opportunity, and the material got pressed on compact disc. There are three-hundred copies in digipack edition and, in the mean-time, there is a pressing on vinyl as well (12"). It comes with sober cover artwork, black-and-white, yet this visual expression surely defines what the sonic side is all about: desolation, emptiness, coldness and discomfort.
This first Oakmord album clocks exactly half an hour (and some seconds, for the purists amongst you), divided under four different yet cohesive titles. And hey, with its roots in Finland, is there any possibility we'll enter the realms of funereal misery and icy despair? Welcome Doom, oh sweet Doom…
It is as from the introduction of opening elegy I Pray To Unforgiving Skies that the sonic expression of unhappiness enters. This first track (clocking eight minutes and something) starts with a sober and sombre melody, based on piano in the first place, assisted by feral and down-tuned synths and modest percussions. All joy and light disappear, creating a snowy landscape under a bleak sun. After about one minute and a half, things turn heavier, denser, gloomier, when Oakmord show their skills of ceremonial obscurity, through presenting a remorseless, rigorous approach of timeless Funeral Doom. It's harsh and heavy, and at the same time integer and introspective. After a short while, things turn more tranquil once again, with hypnotic guitar-lines and acoustics, and also the sad piano tunes from the introductional phase do return. A surplus are the wretched and poignant vocals, which are full of coldness and despair, once in a while blackened in essence, and quite varied in execution (including spoken words). The basics are created around slow yet melodic guitar riffs, assisted by a monumental rhythm section, which abyssally supports the mournful fundamental.
Dilution Of Pain goes on in a comparable vein, yet the result might seem more unmerciful and intolerant. Here too, guitar-based melodies are like the spine to carry the structure, nicely enriched by a well-balanced rhythm section (the drums are really well-fitting, and all additional strings strengthen the fertile basement), additional keyboard-work and diversified, roaring, mischievous vocals.
Deliverance, the most lengthy piece out of four with its duration of nine minutes, opens in a most bleak, barren way, with slowly pounding percussions (which do have sort of a jazzy approach), a mesmerizing guitar melody, and deep-throated, semi-whispering voices. Soon, things turn into frigid proportions, alternating between fragments of (semi) acoustic composure and ponderous heaviness. This composition permanently balances in between the extremes of anger and frustration at the one hand, and a sense of tragedy and melancholy at the other.
Also My Eyes Reflect Only Death walk that path, a passage towards a bottomless abyss, towards a dimension beyond the universal questions of life and death. The track continues within the same approach as the three others, combining melancholic fragments, harsh passages of doom and resentment, and integer, saddened excerpts, with varied vocal-lines (deeply-growling grunts, atrabilious screams and some spoken words / whispers, and subtle keyboard / piano-work. An hypnotic lead as guideline, pounding drums and low-tuned strings, in combination with the vocal performance, are canalised into an utterance of morbid and miserable thoughts and negative sentiments.
The album We Were Always Alone offers a rather traditional approach of Funeral Doom Metal in its most naked essence. It does not reinvent the scene, but why should it anyway. It is the purest expression of grief and affliction, of anguish, of perturbation; of desire and vehemence too. The tempo is slow, oh so slow, the whole of the time, without any acceleration, which drenches the whole concept in a suffocating mist of inanimate chasm. Some hints of Ambient Music and distortion do add a specific timbre, but in general, Oakmord stay true to the purity of the scene. Besides, the unpolished sound-quality nourishes the arid atmosphere, and therefor the result retains that pale and dismal aural welkin.
https://oakmord.bandcamp.com/album/we-were-always-alone
http://www.wroth-emitter.org/wroth_eng.html
http://www.wroth-emitter.org/wroth.html
https://www.discogs.com/sell/item/1259247201
https://www.concreteweb.be/reviews/crrombid-traxorm