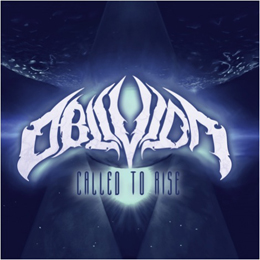 Release Date:
Tuesday, October 15, 2013
My goodness...yet another act under the monicker of Oblivion? I say, this is probably one of the most used bandnames in the Metal scene. A quick check on Encyclopaedia Metallum [(www.) metal-archives.com] will tell you that, by théir cognizance, there have at least already been 28 other Metal bands (going from Doom to Black Metal, from Heavy to Power Metal, from Speed/Thrash to Death, and even from Stoner to Progressive Metal...with all sorts of cross-contaminations in between) from all parts of the world (these including Europe's Sweden, Spain, Poland, Italy, Greece, Germany, France, Croatia, and even Belgium; the Middle-East's Lebanon; Romania...is that Asia already?; South-America's Brazil and Columbia; and of course the USA...), with no less than 5 from the USA...of which 2 already active since 1984, and still goin'! And to think that the newest addition to the Oblivion family turns out to be the first to ever have thought of registering its name with the US Patent & Trademark Office!
Well, this new Oblivion, which has to be cataloged in the sub-genre Melodic Technical Death Metal, certainly cannot be seen as the regular type of under-educated Metal freaks havin' a go at music! In fact, one might say that the average intelligence factor goes up quite a few notches, with the singer having a doctorate degree in music (ànd being a University professor), and one of the guitarists is currently studying for a doctorate in mathematics! But hey, let's start the story of this band at its beginning, okay?
Following a two-decade absence from the music scene, Thrash Metal veteran guitarist Ted O'Neill (his former band Alchemicon having split after contributing a song to the Metal Blade Records compilation album Complete Death 2) again went looking out to form a band in 2007. He soon found a suitable partner in one Joe Ellis, seasoned session guitarist from the San Francisco Bay Area Metal scene (also former member of Light This Way, All Shall Perish and Gunmetal Grey), and the duo set forth to compose some music. Needing additional components for the refinement of their sound, the twosome next recruited Nick Valosso (then already an award-winning composer and professor of music, member of Antagony, and former frontman of several other Bay Area bands) for vocal and bass duties. The trio immediately went into composing songs, and recorded at their in-house studio. A first result of the recording sessions was the release of the song "Annunaki". Accompanied by a video, the release got an ape-shit incredible response, by receiving over 5,000 hits within the first day of being posted, and 20,000 by the time 3 weeks were elapsed!
The trio went on to recruit additional members in the form of bassist Beniko Orum (formerly a founding member of All Shall Perish, but also a former member of Antagony and End Of All) and drummer John Haag (formerly of Invection and Laceration). The latter, apparently, was occasionally switched for live duties by one Curt Opem. With writing sessions continuing, the band went on to record more songs, and in January 2012 self-released a demo-CD entitled simply Demo 2012. Following the release, the band recruited Luis Martinez (also a member of Feast and The Zenith Passage, and a former member of Antagony, Necromantic Decay, Sidian, Traversing The Axis, and Undiagnosed...and making for a 3rd former Antagony member within this outfit) as its "permanent" drummer (apparently still using the two others when necessity arises), and replaced Joe Ellis for Victor Dods (formerly a member of Hacksaw To The Throat, and also our mathematician in the band).
Eventually, the band (having gained several endorsements) felt it was time for an album's worth of material, which they recorded with producer Zack Ohren (whom had previously lent the band its first recording gear) of Casle Ultimate Studios (from whence before albums by the likes of Suffocation, Immolation, Decrepit Birth, and Deeds Of Flesh emerged). Self-released in January 2013, the CD sold out within weeks, and garnered several rave reviews in the process. Excerpts of those? Sure! "...The must-own album of 2013..." (Metal Injection), "...the finest debut ever written..." (Metal Archives), "...a Progressive Metal masterpiece...the band's eleven song display of nothing more than pure aggression with more musical depth than many bands can find in their entire discography..." (Sputnik Music)...things which unavoidably set Dutch label Unique Leader on the band's trail, with as result that the album was recently re-issued with no less than 4 bonus tracks!
So...what's the big buzz about these guys? Well, the guys have an uncanny way of combining a highly technical play with great melodies, which have the tendency of creeping into one's memory banks. Besides the obvious Technical Death Metal elements, the band also uses elements of Black and Thrash, and Vasallo's singing uses a combination of deep Death growls, high-pitched screams, and something in-between. The album also includes two "instrumentals". The first (and only proper instrumental) is entitled ""Canon In E Minor", and is a perfect display of Metal-meets-Classics, with three guitars (well, unless one's actually the bass, that is) going up and down the  note bars in a typically Classical tonality. The other is the album closing "Oblivion Part 2: Infinite Descent", and it's not actually a true instrumental, as it uses a chorus. The track also deviates somewhat from the band's usual use of velocity, with guitars (as well as bass and drums) being played in a somewhat repetitive slower drone. Instrumental is also the theme in the bonus tracks...or at least in 3 of 'em. You see, the first bonus track is an instrumental of album track "Black Veils Of Justice", the two next ones, are instrumental and orchestral versions of two of the bands songs, one being the album's "Multiverse". That same orchestral version of "Multiverse" was then re-used with addition of vocals and drums, to more explosive effect!
And now, here's my little surprise for you lot...because I found a way for you to listen to the band's complete output! You see, the guys not only posted their 3-track 2012 demo, but the complete album with bonus tracks at (http://) soundcloud.com/obtain-oblivion! Of course, you can always go check out further details on the band at their official website (www.) facebook.com/Oblivion, r its pages at MySpace, Spotify, and some other sites (links found at the facebook page), and then there's also the studio videos to be viewed! Meanwhile, I'll add Called To Rise to my 2013 year-lists, and the band itself in my list of favourite bands!