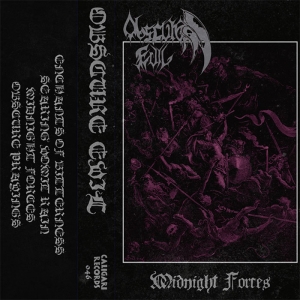 Obscure Evil are a new collaboration of three young Peruvian Metal heads: bass player Suffering Soul of Sordid-fame, Naked Whipper (ex-Nexwomb / Witchfucker / Gorphyryac / Angelripper) on guitars and vocals, and former Purgatorio drummer Tzarathustra. The trio wrote and created a first demonstrational recording, Midnight Forces, which was recently released on tape via the great Underground-label Caligari Records (FYI: in mean time Unspeakable Axe Records took care of the digital and compact disc release too). Beware: only 150 copies have been pressed!
Midnight Forces consists of four maniacal and demonic tracks that have a total running time of just over twelve minutes. What this demo stands for is a primal execution of Old School – and then I mean 'Old School', like in 'Eighties Old School'! – Thrash / Black Metal, with quite a huge dose of Venom, Possessed, Bulldozer, Sepultura, Kreator and Sodom going on. The stuff is fast and hugely energetic, with all 'known' ingredients: epic riffs, fierce solos, majestic rhythm patterns and those typifying yet excellent screaming yells. Besides, the sound quality is simply grandiose: rough and unpolished yet clean enough to show the fabulous mixing result at the one hand, and to distinct every individual aspect – though the latter being hugely coherent in result.
In conclusion, to keep it short: with Midnight Forces, Obscure Evil perform a hell of a blaspheme release! It contains everything this scene needed and still needs, and on top of it, it comes with a superior performance and a decent production. Without doubt this is hugely recommended in case, well, just if you like this kind of Sonic Terror. I think it's majestic!