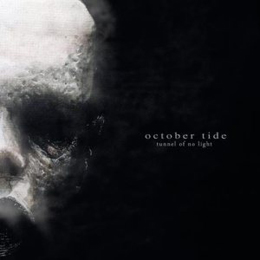 October Tide were formed in 1995 by two members of Katatonia, Jonas Renske and Fredrik Norrman. Initially October Tide were meant to be a temporary Katatonia-side-project, and after two full length albums the project was put on hold. A couple of years ago, however, Fredrik decided to continue with October Tide, and with the assistance of some crafted co-musicians he released the album A Thin Shell through Candlelight Records. If interested, you can still read the passionately and professionally written review, done by undersigned, on Concreteweb's Archives, posted on October 13th 2010.
Tunnel Of No Light was recorded again at Black Lounge Studio with producer / engineer Jonas Kjellgren, and it goes completely on in the vein of its predecessor. This fourth album was conceived by Fredrik with assistance of his Katatonia-brother Matthias and some other experienced musicians (like singer Alexander Högbom of Volturyon-fame). It still stands for traditional Doom-Death with a certain Melo-Gothic-Doom approach, but at the same time with a production that makes the whole sound timeless and eternal.
Recommended if you can appreciate everything in the vein of (early) Anathema, (very early) Opeth, Katatonia, Insomnium, Swallow The Sun, In Mourning etc. LP version of the album is available from May 13th on, through the Cyclone Empire label.