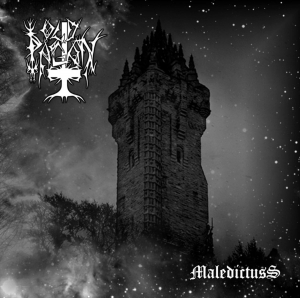 Release Date:
Thursday, February 20, 2014
In the past twenty years, Saarland-based act Old Pagan did release quite some stuff, amongst three full length studio albums; this review deals with the latest one the band did. The experienced band (the members are involved with several other notorious underground bands) took a break during the second half of last decade, but since a couple of years they seem to even more productive / active than ever before.
Anyway, Old Pagan did record and mix this third album, called MaledictusS, in 2012 in the DarkOne Studio, owned by former Beyond Serenity guitar player Karsten 'Aurig' Gries. It gets released in a collaboration in between Germany's Narbentage Produktionen and Ukraine-based Vacula Productions, who did deliver this newest epos to undersigned. It consists of eight tracks and lasts for thirty four minutes.
What these pretty boys bring is the core of the origins, timeless and universal. MaledictusS is nothing less than the purest definition of fast-paced, merciless, blaspheme and malignant Traditional Black Metal in all aspects. The sound, for example, is pretty decent, yet rough-edged and surely not clinically over-produced. Besides, there's that wonderful equilibrium in between up-tempo aggression and violence at the one hand, and a certain somewhat epic melodicism at the other. This material has a rhythm that makes the listener spontaneously bang his / her head, with horned-up fingers and an evil grin on the face…
The critics might focus on the lack of originality. They are right, because Old Pagan have nothing renewing to bring. It does not necessarily sound like band X or Y, but it sounds like all of them. There might even be quite some moments of prediction for sure. But WTF; what's the problem, for the result is quite impressive. It's not the performance only I am talking about. The conviction and joy-of-play, the sound I did mention, and the whole gimmick around this band is not to dislike, I think. Beware: I will not say that this band is the best one I've heard in years, for it would be a lie. But this material is so pure and essential (honest or fake, that's another discussion, but I won't delve into the matter right now), and just admit: isn't this cool stuff?! And let's admit: the few synth additions do colour the whole in even darker 50 666 shades of grey black, do they not?!
Okay, the variety in between the compositions might be limited: it's fast and energetic each time again, with quite comparable melodious riffing, artillery drum patterns, high-pitched screams and so on. Therefore, in quite an overcrowded scene this album might not be a recommendation if you do not like to spend your euros, dollars or, for my part, Botswana pula, but the rich fans / freaks amongst us might etc…