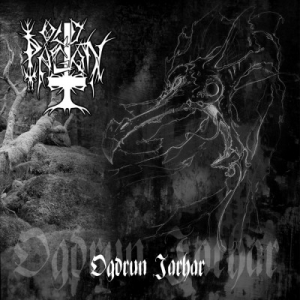 Release Date:
Wednesday, December 16, 2015
I do follow Germany-based Old Pagan for quite some time. The members joined forces two decades ago, and since then they did record and release quite some interesting material. In 2014, for example, Vacula Productions and Narbentage Produktionen did release the album MaledictusS (which was actually recorded a couple of years before, yet not released until then); a review which I did write for that recording was published on December 24th 2015, by the way. There seems to be a split on vinyl after that one, but unfortunately I wasn't aware of this, and a compilation with demo-material both via Bestial Burst), and this review deals with the band's latest studio recording, Ogdrun Jarhar. It's been released, once again, via Narbentage Produktionen, this time in collaboration with Symbol Of Domination Productions, owned by the devoted Underground Music promotor Alexsey, who started and owns parent label Satanath Records from Russian soil.
Ogdrun Jarhar (no idea what this means, sorry) was recorded once again in the Dark One Studio by multi-instrumentalist Machosias and screamer Sascha Vollmer with production assistance of former Beyond Serenity guitarist Karsten Gries. Actually they do not bring anything new at all. Old Pagan's Black Metal is of the traditional kind, heavily rooted in the origins of the Second Wave trend. The songs are extremely intense, fast, aggressive and merciless, with a message of blasphemy, misanthropy and hatred in all aspects. The guitars are quite melodious, supported by a hit-in-the-face rhythm support. Quite characteristic here are the whirlwind drums, violently devastating like a pyroclastic explosion. The main leads carry the whole, but most striking might be the purely venomous, acid, sulphuric screams by Sascha.
The sound quality is all right: not too clean, yet not under-produced either. I like the fact that the bass melodies are clearly hearable – actually the whole mix has been nicely balanced with all ingredients divided in equal parts. Especially during the second half of the album, which consists of more convincing compositions than the first half, I think, that aural majesty comes into its own. Just listen to the buzz-sawing cover of Secrets Of The Moon and you'll understand this statement.
Ogdrun Jarhar overwhelms, for there is no room for rest, tranquillity, ease. That might bother in case you're suffering from a heart disease. The mardukian bulldozer attitude, however, does not irritate, for there is quite a lot to enjoy. Take the epic injections, for example, like profoundly present in a hymn like Endless Agony – aren't they grandiose, those glorious moments? And this duo's 'joy-of-play', which I referred to in my former review, well, this element is still striking. This stuff is elemental. I wonder whether it will mean something additional within a scene that is growing so exponential lately, but hey, do you care? I do not, for it's the individual result that counts (PS: 'individual' stands for the whole album specifically within that constantly growing international scene).