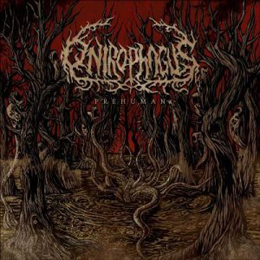 Release Date:
Friday, September 27, 2013
Spanish act Onirophagus (currently with members of Decapitated Christ, Entropia and Empanadilla De Pus) was formed about two years ago (September 2011) in order to pay tribute to the early-nineties Death and Doom-Death scene. Last year there was an EP (Defiler Of Hope; I'm still searching for this material), and just like that material, the new stuff on Prehuman was done at the famous Moontower Studio with Javi Félez behind the knob-panel.
The five-piece (Uretra, Paingrinder, Khrorum, Moregod and Ghorth) brings another magisterial epos of nineties-oriented Doom-Death / Death Metal with an earthly sound. And again, it combines elements from different scenes. The Doom-Death parts remind me a lot to the early UK-scene: Anathema, My Dying Bride, Winter and the likes, as well as the trans-European one (keeping some proto-bands from Belgium, Holland, Finland and Germany in mind). It means tradition, i.e. melody in combination with a hint of melancholy. Besides, the whole is flavoured with some furious grooving and funereal eeriness, which both rather remind me to the US-scene: (the slower side of) Incantation, Autopsy, Morbid Angel at the one hand, and the likes of Evoken, Fall Of Empyrean or NovemberS Doom at the other. Above all, the album is drenched in utter obscurity and nastiness of a most angry kind. There are not that much Doom-Death releases with such an oppressive and suffocative morbidity in sound and atmosphere.
Besides, except for the instrumental intermezzo Aeger, all compositions last for more than seven minutes (of course it isn't that unusual at all within this scene), but in this case it does not bore or bother, for all of them are just fine to undergo.
One remark however to add. I wanted to experience something additional, something that made this stuff exceed the scene, which is extremely important and strong nowadays (as it has always been, as a matter of fact). The band partly succeeds, and every single piece is great, but that subtle 'something extra', well, I'm still searching for it. There are several highlights for sure, but within the currently present scene, I am craving for that something more (imagine the score in case …). But please forgive me my nit-picking, for Prehuman is superb (at least if you do appreciate true, honest and obscure Doom-Death-Majesty from the grimmest Old School.