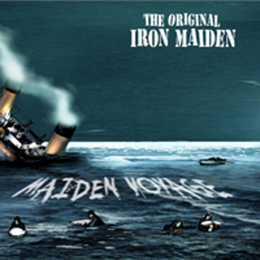 Almost a decade before one Steve Harris would start up what was to become one of the more successful Heavy Metal bands still around (somewhere in 1966 to be more precise, bassist Barry Skeels, singer Steve Drewett and guitarist Chris Rose (whom had that far been active in an acoustic band) witnessed a performance of Cream at their school hall in Basildon (Southern border of Sussex, some 50 km East from the center of London)!
Fully impressed, they recruited rhythm guitarist Tom Loates and a new drummer by the name of Stan Gillem, and naming themselves Growth played the local pubs playing Rolling Stones and Blues covers. Reduced to the twosome of Drewett and Skeels, and under the monicker of Stevensons Blues Department, the youngsters would reap their first decent successes playing regularly, mainly as supports to the likes of upcoming acts such as Jethro Tull, Fleedwood Mac, King Crimson, and others. When in 1969 Led Zeppelin releases its self-titled debut album, the twosome decides to go for a heavier approach, and recruited guitarist Trevor Toms and drummer Paul Reynolds, re-baptizing themselves to Bum. Under that monicker, the band releases an acetate (which we would call a flexi-single back in the days) with the songs "God Of Darkness" and "Ballad Of Martha Kent". However, the end of the '60s is still a time when such a band name will get you nowhere, and the band saw itself being denied to play in many venues. So, after a while the foursome eventually came up with the monicker of The Iron Maiden. Soon after, the band was noticed by A & R men from President Records, who singed the band to their subsidiary Gemini, and had them record the material for their full-length album Maiden Voyage. Following the recordings, Reynolds was replaced by Steve Chapman.
Remember now, this was over 4 decades ago, and things I the music business went about quite differently than today. With a very few exceptions (where bands already had a huge live audience, or where membership would set sales expectations rather high) new recording acts were forced to await positive success of the release of a couple of 45 rpm 7-inch singles (there were no digital sound carriers back then, you know!), before they were allowed to record full-length albums...proper studios in those days being rather expensive! The singles start had a very simple reason, namely the size of 'em being cheaper for promotion through radio stations, which in those days still brought in a heavy weight towards possible success of new acts.
Important in those days, was that songs had to be under a certain length, as radio deejays had their program to work off, you know. Well, that was apparently a problem with The Iron Maiden, as most of their material went over 6 minutes in length. There wére two shorter tracks, but either the occult lyrical subject of "God Of Darkness" was considered too dark for conclusion in a single, (let alone a debut release in those days – it was still a full year before the release of Black Sabbath's eponymous debut album), the label were hesitant to use a track already released (on that acetate), or they (label) wanted to hold back on that track for a second single release. The other shorter track was a diddy named "Ned Kelly", and prior to the release the song was actually scheduled to be included in the soundtrack of the movie by the same title, featuring Mick Jagger (Rolling Stones). That alone of course would've meant considerable promotion for the fresh band. However, for the A-side of the single the choice had fallen on the 6:03 song "Falling", and the original plan from the record label was to make this single the very first one operating on 33 1/3 rpm. Still, as quite a lot of the radio stations were operating only with singles record players (45 rpm) only, that part of the plan was blown, and the song was crammed together on the "normal" single (which surely must've been a hassle on the usually bad quality singles record player "normal" people had in their households in that particular era).
In other words, the plan of the "special single" falling through was already "bummer one"! "Bummer two" was when even before the release of the single, the B-side was nót retained for the movie soundtrack of "Ned Kelly". "Bummer three" : a planned Australian tour fell through. "Bummer four", Gemini goes belly-up, and in the process of settlement the master tapes for the album get lost. Which led to "bummer five"...the departure of Skeels. Although the band still went on without him for a while, he was simply found to be too difficult to replace, and the band soon folded.
Skeels continued on in music, joining legendary Occult Progressive Rock acts Monument and Zior, later becoming tour manager for the likes of Black Sabbath, Saxon, Manowar, and Yngwie Malmsteen. Guitarist Trevor Toms also went on, shortly joining Spirit Of John Morgan before playing with Steve Peregrin's Took and Steve Took's Horns (where apparently he takes on the stage name of Judge Trev) and before being inducted into Nik Turner's Inner City Unit (with whom he recorded two albums in 1980 & 1981). During the '80s he founded 3-piece Metal act Atomgods (one of the members being bassist Steve Pond, whom he knew from ICU), and somewhere in the '90s he took on the ICU monicker for a project of his own, recording one album as Judge Trev's Inner City Unit. He dies of pancreatic cancer on Dec. 8, 2010.
Time for the entanglement of some confusing info I came across! According to info taken from (www.) guardian.co.uk, the Maiden Voyage album was already released in 1998, thanks to duplicate tapes Barry Skeels had of the demo recordings for the album. Weird then, that no trace of such a release can be found anywhere on the Internet. In that same article by the guardian, it is said that soon after its re-discovery, this 'original' Iron Maiden was officially re-named The Bolton Iron Maiden. However, that is an error, as the other Iron Maiden meant here, was a trio of musicians from Bolton (20 km NW of Manchester) which operated under that name between 1970 and 1976 (they formed in 1967 as Ways 'n' Means), when guitarist Ian Boulton-Smith died of cancer. Out of 4 studio recordings and 8 live tracks, the remaining two members eventually put together an album which was released in 2006 to commemorate Boulton-Smith's death, an album which got the title Maiden Flight, an album which got the complete okay of that "bigger" Iron Maiden.
Getting back to that other 'original' Iron Maiden (and since they had an official single out first, they can actually claim that monicker – still, I think when you count "birth" dates, things might be very close), in a recent interview I read, Skeels stated having contacted that more known Maiden, and having come to the agreement of bringing out the Maiden Voyage album under the current monicker. He also talked about possibly taking the music onto the live circuit, but with a new guitarist, of course!
Well, the music sure is good! There's that typical sound of the late '60s and early '70s British Rock bands, but with a twist here and there! Some of the tracks (including album opener "God Of Darkness") have a somewhat slower pace and "heaviness" (for that particular era in musical history), which deserves the band the honorary title of having been one of the very first Doom Metal bands around. Proto Doom, obviously! The other tracks are closer to a Progressive Rock, and there's certainly also the Ghost Of Blues, especially in certain passages of the album's longest track "Liar" (it's 12:26 in length). As to where to find audio samples on the album? I've found no website relating to the album, and at the album's Amazon page no samples were provided...so keep on looking! Meanwhile, let me conclude by telling you that the album comes with a 40-page booklet, and that it is also available in vinyl form!