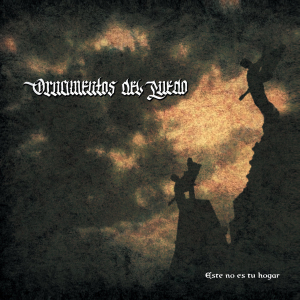 Ángel Chicote is a talented musician from Spanish soil, whom you might know from his current or previous collaborations as / in e.g. Graveyard Of Souls, Mass Burial, Aural Butchery or Ad Nebula Nigra, amongst others. Ángel is also the human being behind Ornamentos Del Miedo (meaning something like 'ornaments of fear'), a project that was formed somewhere in 2017. A first result was the independently self-released single Este No Es Tu Hogar, also being the title of the debut full-length that got released about half a year later. I will come back to this one immediately, for this review deals with that debut album. At the end of Spring 2021, Ornamentos Del Miedo came up with a second full-length album, Ecos (I haven't had the pleasure to experience this one yet, but I will, I surely will), and the project recently finished a two-track EP, called Destierro, as well.
Yet as said, this review will focus on the first full album, Este No Es Tu Hogar, which means 'this is not your home'. I know that this is an older release (about two years and a half of age), but so what. Seen the fact that we're living in the 21st century, a digital edition does exist via various sources, yet there is a compact-disc version too, being released in an edition of 500 copies, in a partnership of two very fine Doom labels, Armenia's Funere and Russia's Solitude Productions. The latter is involved as well with the release of this year's Ecos, in case you might care (why wouldn't you anyway?). That CD-edition comes with sober yet impressive cover artwork by Ángel, and the eight-page booklet does include the lyrics, which are in the artist's native language, as well as with the English translation.
Este No Es Tu Hogar consists of six very lengthy tracks, and clocks more than one hour (!). Indeed, the shortest piece out of six lasts for eight minutes. It was created as sonic guide to / into our subconscious, exploring our purest and most in-depth spirituality. Birth and mortality, boundless from fake emotions and survivalist egoism, get translated via those six monumental chapters. La muerta es nuestro hogar. La vida es un lugar frio y extraño… A tragic truth it is, in all its fragility.
The album does not renew anything at all. You know, the Funeral Doom scene does not need any progression. I do not search for 'originality' when it comes to this specific genre; I just expect quality. Well, in this project's case, I am satisfied by the result once more. As said, Este No Es Tu Hogar surely lacks originality. With exception of the vocal timbre, everything follows the basic ingredients to have a nice result (beware: also the quality of the song-writing, as well as the performance and the sound-quality, are of importance). The material is constructed around highly melodious tremolo-guitar basements, with a melancholic, darkened and slow-paced execution. The guitar leads are like the spine of the album, with dreamlike, mesmerizing and melancholic passages. It's not too repetitive at all; it rather progresses the whole of the time, which is a positive element, seen the long duration of each composition. Quite 'evident' too, yet nicely performed, is the supportive rhythm section, with down-earthed bass and rhythm guitar lines and pounding, quite varying and intense drum patterns. This gets often enlightened by spherical keyboard assistance. These synths are intensively represented, yet without overpowering the totality. Smooth… And then you have those subtly executed solos, limited in amount, yet intriguingly injected.
The vocals are, as said, not that usual, though not completely unusual either. Instead of a deep-growling throat, Ángel's voice sounds rather echoing, bleak, ill-natured. It does give the whole a hint of psychedelic (read: 'esoteric'; got it?) grandeur, strengthening the livid attitude of the album's concept. A pity is that I do not understand the lyrics; and no, I am not referring to a lack of knowledge of the Spanish tongue. Even with the lyrics before my eyes, I still do not comprehend the pronunciation. But this isn't but some personal whining. The frenzy twist adds a level of supernatural alienation, and this sort of works distinctive and characteristic. Suffering has never sounded that sensual. Dolor que no existe, dolor que deseas…
The sound quality is not bad at all, even-though the roughness might be little too overwhelming. Yet then again, when the bass-lines, synth-parts etc. are as prominently represented as the lead instrumentation, well, then the conclusion isn't but anti-negative (I would use the word 'positive', yet since I did use this specific description before, and since we're talking about a Funeral Doom release, it did suffice). Besides, the density of the production empowers the drama, the heaviness and the moodiness of this fearsome adventure.
https://funere.bandcamp.com/album/este-no-es-tu-hogar
https://solitudeproductions.bandcamp.com/album/este-no-es-tu-hogar
https://solitude-prod.com/releases/solitude-productions/ornamentos-del-miedo-este-no-es-tu-hogar/
https://ornamentosdelmiedo.bandcamp.com/album/este-no-es-tu-hogar
https://www.facebook.com/Ornamentos-del-Miedo-1921085274681092/