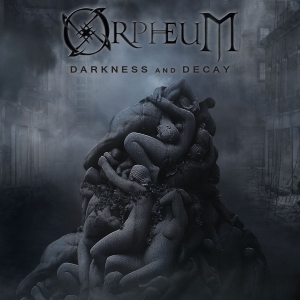 I was quite surprised when I did receive Darkness And Decay, which seemed to be an album by Orpheum. I surely did remember that name from a couple of years ago. I wrote a review for them, for their self-released EP Treason, which was released in March 2012. In case you're interested, you can find that chronicle in the 'Archive'-tab, published on November 30th 2012.
The bio included learned me that the band went on a hiatus for a couple of years. But actually some members kept on writing new material, and after some line-up changes, Orpheum decided to restart activities with a new drive and more conviction. Eventually, they recorded some of the new pieces they had written in meantime, and this in their home town London, and the result got mixed and mastered in Canada. The result is a collection of eight new pieces, and two additional bonus songs, all together clocking fifty-two minutes.
To prepare myself mentally (yeah, reviewing is quite a hard job), I decided to read my review on the 2012-EP again. I wasn't that positive, I'm afraid, because of several aspects, but I thought there might be a bright future (that was, as a matter of fact, my intelligent conclusion), at least if they would work on some specific points: an own face, a better production, and a purer atmosphere. Well, in the meantime I did listen to this album two times (this is the third, as we speak), and let me be succinct (at least, the question is: can I be brief and concise?) on those subjects.
About that production I cannot but express my positivism. What a difference with that EP! The aural result is much, and I mean 'much', better, with a fantastic mix done by Chris Smart. The balance in between the different instruments and voices is quite decent, giving all members time to 'shine'. Okay, maybe the vocals do dominate some excerpts, but actually every single element has the time to play its role within the whole story. Nothing has been put too firmly on the foreground, but everything appears in a fine equilibrium. If there's one less positive thing I have to say about the sound, ell, it might be the opposite of the past, being somewhat too polished, too clinical. But that isn't but a minor detail, for this kind of Rock / Metal gets away with a clean sound, rather than an inferior result.
The own face is not exactly an aim that Orpheum did reach. But then again, you do not need to renew the scene. Orpheum do bring quite traditional Symphonic / Gothic / Melodic Metal that lacks of invention, but that does not need invention at the other hand, you know. The band focuses on emotions and atmosphere, going deeper into aspects like melodic structures, well-executed craftsmanship and a variety in heaviness and tempo. And actually, they do succeed this time. On top of it, there are some hints of Progressive Rock included this time, without fading away in modernism (as said, the basics are quite traditional in song writing and performance).
Erin Johnson's voice cannot always satisfy my eardrums, for I miss some power in it. But here too I must add two positive elements. First of all, there is more steadiness this time. When I compare to the former EP, I do experience stronger chords. Within some excerpts, like in Broken Glass Kiss, when she tries to go 'up and down', I sort of get annoyed, but in general she did improve a lot. Especially within the lower regions, I think Erin did progress enormously – listen to Eden, for example, and you'll understand. Seriously, when she sings her lower tones, I am convinced. The highest-sung stuff too did improve, but I don't think that the operatic vocal execution has come to its peak (yet) – cf. a piece like the lengthy track Porcelain Doll or excerpts within the tragic composition Memento Vivere, twice quite convincing…
The string sessions have improved as well. Especially the bass lines (Philippe Dutra) grab my attention (I can refer, once again, to Eden, for example), and so do the drums (Andy Thomson) and the strongly supportive rhythm guitars (Finley Thomson). Also the keyboards (Mars Martin) are, occasionally, quite beautiful, and building the correct aural sphere around the emotive, even dramatic Music Theatre.
There's still room for progression, to my (extremely important) opinion. But keep in mind that 1) the band went on a hiatus for quite some time, and 2) there is a remarkable evolution in comparison to the past, I still give them the benefit of doubt. Rock-fans who do not necessarily search for extremities, yet rather for an intriguing expression of breakable feelings and deep thoughts (or better: the aural translation of those feelings and thoughts) must pay attention.
To end I would give a short note on both bonus tracks, reinterpretations of Memento Vivere, probably the most melancholic and dramatic piece on this album. The first one is the so-called cello lament, with – indeed – cello, as well as floating synths / fx, and some additional percussions. Actually it's quite a moving (instrumental) song that would do fine on a film score, I guess. The choral version, recorded live, is more bombastic and orchestral, including the lead voice of Erin and a choir with both male and female vocals. It's more sacral, but at the same time cinematic-operatic too, also aiming for a movie soundtrack (yet rather the vaudevillian film noir circuit).