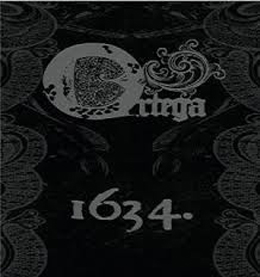 Once again I will take care of an 'old' album, because that's my way of showing gratitude to a label that cares about music and bands rather than money (though I am sure each single album they will sell, maybe because of this review (?), might be welcomes with open arms; and why not anyway). No, seriously, Aesthetic Death were so kind to offer me this debut of Dutch formation Ortega as part of a hugely interesting parcel, so there is no reason why not to write at least some words about it.
Actually, 1634 was Ortega's debut, self-released in very early 2010, mixed by JB van der Wal (of Dr. Doom / Aborted-fame). It was sold out pretty quickly (okay, there weren't but 100 copies), then re-issued on tape, but luckily this material was re-released once more on CD for being too interesting not to be heard (at least when you're into this specific kind of sonic art).
It's a conceptual album, dealing with 'water' themes, which isn't that usual (with some exceptions, like Ahab). After quite a cool instrumental intro, called Still, which sort of shows what you can expect further on, this quartet (drummer Sven Jurgens, guitarists Richard Postma, who takes care of the vocals too, and Alex Loots, and bass player Frank de Boer) brings truly massive and powerful, yet melodic and catching Doom / Sludge with quite some variety. The songs' structures are full of breaks and tempo-changes, adaptations in melody and sudden hooks, yet it's not of the exaggerated progressive kind (which I am thankful for). This results in a fine equilibrium of, at the one hand, loads of details from the traditional scene, and quite some modernized elements at the other too.
Each single composition is an experience to listen at. There are so many levels, so many different things to find out, yet gathered under a very cohesive banner of self-identification. Besides, the stuff gets injected with elements from other, broadly seen related genres, such as Post-Rock, Dark Drone, Crust and Post-Hardcore; and why not, even the Funeral Doom / Black Metal scene might come to mind from time to time.
With pieces like The Siren Ortega explore untrodden paths too, by using acoustics, violin [*] etc. (and in this specific case, also the voice of Nikky Sriamin of Noir / Existence Denied-fame).
([*] also the instrumental epic Octagon comes with those haunting violin lines)
The sound, finally, is fabulous (note: little exaggerated, but you might know what I mean) as well. There is some kind of funky undertone, but the massiveness of the result belongs to the best results possible.
A mixture of Axegrinder, The Ocean and Year Of No Light might give a clue?...