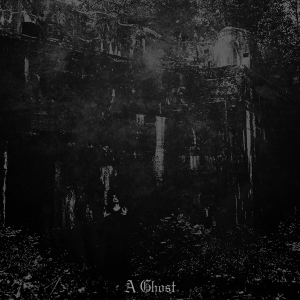 Hailing from Belarus, Pa Vesh En are a mysterious project that started quite recently. After two demo tapes, which were released on Germany's finest Iron Bonehead Productions, this one-man army now offers a first 7"EP on vinyl. A Ghost comes with two new pieces (both clocking about seven minutes each), which are available as well digitally.
Haunting And Mourning is a melancholic piece, yet at the same time enormously intense and confronting. It starts very slow, but there are several tempo-changes included within this song. It creates an atmosphere quite sober and sombre, without turning towards any DSBM-trend. The bass lines are superb in performance (despite the sound quality – see further) and surely contribute to the melodic character of the track. The haunted, eerie screams too are strengthening the ominous atmosphere. In general, Haunting And Mourning remains on the basics of the Nineties, lacking trendy additions or pathetic progressive experiments.
The B-side brings Gruesome Exhumation, which also goes on in an old schooled way, spitting on the urge to renew the scene. The guitar melodies get more attention here, and the funereal attitude creates a mostly morbid sphere. The tempo is faster – especially the drum work thunders and blasts. There is a certain chaos going on, yet to my opinion it blackens the effort even more.
The sound is, unfortunately, inferior to the high quality of the tracks. The production is beneath acceptance, there is a lot of noise at the background, and the mix results in a mish-mash, which lacks balance. Unfortunately, the drums sound like being recorded in a rusty container, and I would have preferred a more prominent interplay in between the strings. The vocals, then again, are just fabulous: distant, wretched and tormented, and that's a positive element. Yet as said, I hope that the future will bring a more professional studio assistance, for this lo-fi approach might reject some. And it will be of influence on my final score at the bottom; a number which is so important, of course (horned smiley added)…
But when coming back to the compositions (song writing and performance), I cannot but express my respect. Pa Vesh En might lack of originality (as usual: my erected middle-finger towards fake progression), but both epics are truly adorable. I will soon write and publish a review on two other recordings, a split with Temple Moon and the first full length Church Of Bones (with a better production sound, believe me), so pay attention!