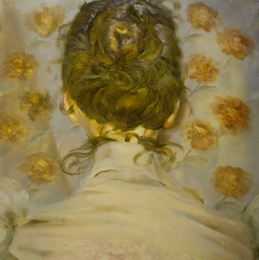 Album Title:
Joko Sinä Tulet Tänne Alas Tai Minä Nousen Sinne
Release Date:
Saturday, January 18, 2014
Oh my...Svart Records IS swiftly becoming one of my favorite labels indeed! I mean, somehow these dudes manage to get the pick of more adventurous bands in Finland, you know, and that such is more than to my liking, is a self-evident fact of life!
I mean, now take this Paavoharju, a Savonlinna based musical collective of ascetic Christians, based around brothers Lauri and Olli Ainala, who took elements of Psych-Folk, Dream Pop, Ambient and Lo-Fi, and additional female vocals, to create something somewhat eerily dark and disturbing, but also incredibly beautiful! As mentioned in the band's description at (www.) last.fm/music/Paavoharju, the music is the "...outcome of long tiime, intense study of art and literature, dreams, religious despair, and living in dark abandoned places...the sound is somethin between Bollywood music, church hymns, beautiful Pop tunes, and Ambient esoteric noises..."! The band was almost immediately noted with the release of its 2005 debut album Yhä Kämärää, with the popular Stylus Magazine highlighting it as "Album Of The Week". It allowed the band to tour the UK in mid-2007, with relatively successful shows in London and Bristol. Sophomore album Läulu Laakson Kukista (translates as "a song about flowers of the valley") came in 2008 generated a recommendation from the renowned music website Pitchfork Media, and eventually ranked on #18 of Metacritic's list of the 30 best-reviewed albums of the year. Partly due to this high praise, the band garnered a worldwide cult fame in the Indie scene. Fast-forward to 2011, when the band released an "EP" entitled Ikkunat Näkevät, consisting of rare and unreleased tracks, as well as 3 new songs.
So now it's 2013, and we find (mind you, I've got that from the info sheet) that main composer Lauri Ainala's penchant for progress and experimentation have caused some changes in Paavoharju, the main stylistic change being the inclusion of Hip Hop elements and rap vocals performed by Paperi T (also of Helsinki based Hip Hop act Ruter Hauer), but in a somewhat unconventional way. Familiar elements from the past such as the female vocals (those would be done by Emmi Uimonen, I guess) and troubadour Joose Keskitalo are still present, but occasionally distant and drowned in a mist of electronic sounds. In essence, the music is difficult to pin down (Hooray!), but can be described by the following generalisations (from the info sheet) : psychedelic music born from cabin fever – weird pastel electronica – bizarre cut-and-paste loops – hazy, mist-clad experimentalism – eternal drone theatrics. Which leaves out the fact that, very occasionally, some guitar picking can be heard as well!
Ah well, time to make an end of this! I mean, heavenly music as this may be, but the editor-in-chief has handed me a total of 50 albums which he wants reviewed before the end of last week (typical ain't it...I'm also just kiddin', except about the amount of work still awaiting), so I've gotta move on swiftly here! When you'll log onto the band's facebook (www.) facebook.com/paavoharju, you'll nót find a possibility to listen to the band's music, not immediately that is, because the page sports links to the band's pages on other sites (including Spotify), but I guess the best pace to go I still the aforementioned Last.fm page, where you'll find the possibility to view/ listen to (some "videos" consisting simply of a still image) of no less than 23 tracks (of which some is live footage), including this album's songs "Patsaatkin Kuolevat" and "Kolmas Voima". Go there now, and pass a nice two hours of incredible music, dudes and dudettes! Meanwhile, I'm adding Joko Sinä... (cripey, what a lóng title for an album...wonder what it would translate like) to my 2013 year-lists because, come on, how often do we come things as exceptional as this?