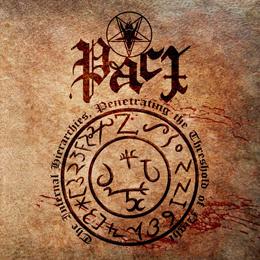 Album Title:
The Infernal Hierarchies, Penetrating The Threshold Of Night
With the 2012's debut The Dragon Lineage Of Satan, this band's first official studio recording on Moribund (KULT!), this American trio did surprise me enormously, if only because of the richness of their inherent poverty (richness and poverty in one shell…). Check out the review on this album, still available on the Archive-section, update July 6th 2012, sardonically done by undersigned.
With the surprisingly, ehrrr, extended title The Infernal Hierarchies, Penetrating The Threshold Of Night, this threesome did create a logical yet merciless successor on the debut, going on in the vein of, and at the same time going further, much further, where the former one ended. I was really enthusiastic about Pact's debut, but now I am (almost) about to do a dance-of-joy.
The Infernal Hierarchies … is a collection of warlike, demonic and massive eruptions, granted by a colossal, monstrous production (which is far less 'underground' than the debut, unfortunately). The hymns batter and conquer, leaving no room for rest or peace. The stuff might sound little melodious, but the focus lies on diabolical and merciless rhythms, and the overwhelming and powerful sound. Sometimes it sounds slightly discordant, then again grim and trashy, but in any case it is of a mostly ferocious kind. It does include the blasting outbursts, as well as some down-doomed decelerations (though the better part truly speeds up).
Compared to the debut, not that much did change. The Dragon Lineage Of Satan did impress much more, I think, because the tracks on this second album sound slightly alike and are too much artillery (especially the pronounced drums are way too neurotic). Yet still it is a nice and impressing soundtrack to stipulate the beauty of humanity…