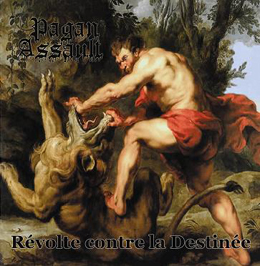 Album Title:
Révolte Contre La Destinée
Release Date:
Sunday, December 23, 2012
Pagan Assault are a Paris-based solo-project by KFD Vordak, the same guy who runs the Soleil Blanc-label. This label houses two projects, i.e. Pagan Assault and Anthropophobe. And hey, the latter is another solo-project by KFD. An independent hands-on guy who also does all production, recording and mix himself.
KFD formed this project at the end of last century, and during the early 2000's, he recorded and released some demonstrational material. It honoured him with the etiquette of 'le groupe le plus haï de France', which means 'the most hated band in France'. Isn't that sweet? The majestic French label Drakkar Productions released a split with BlackSStorm in 2006, and then things went silent for a while. However, Pagan Assault never completely faded away, and KFD created the demo Sous Le Soleil Blanc in 2010, which inspired him to start a label called after this CD-r. It gave him the ideal opportunity to record and independently release his full length efforts done under the monikers of Anthropophobe (Le Royaume Des Morts in 2012, and the compilation When Darkness Returns … / Déceptions Et Trahisons in 2013) and Pagan Assault (Révolte Contre La Destinée, also in 2012, and Requiem For Illusions earlier this year).
This review deals with the second release on KFD's own label, and the debut full length for Pagan Assault. Révolte Contre La Destinée ('rebellion against fate') clocks nearly fifty minutes and was written during a long period, as from 2003 on. In fact it took almost ten years to finish this stuff, but the result shows that this isn't an easy and fastly-created collection of songs. The lyrics are in both English and French and deal with pagan (NS), misanthropic and nationalistic-historical themes.
What KFD Vorlak brings with this project is an epic, paganised form of melodic, rhythmic and energetic Black Metal. The album's sound quality is marvellous, I think. It's little raw, edgy and abrasive, but done the most decent, and the most fitting way, and creating an atmosphere that is enormously oppressive, warlike, obscure and haunting. The songs are little primitive in execution, with (once again) the use of this word ('primitive') in its most positive, complimenting definition. I rather use this word to focus on the spirit, the essence of 'true' Black Metal, i.e. based on the glorious early-nineties era. The songs are very varying in different aspects: tempo, melody, structure, atmosphere. Honneur & Fidélité ('honour and faithfulness'), for example, is a fast, purely (Nordic-oriented) Black assault, rather in the vein of, for example, Darkthrone (cf. Anthropophobe!), while Esclaves Du Temps Et De La Destinée ('slaves of time and fate') holds the middle in between Bathory (Hammerheart-era, not the early years), Falkenbach and Graveland. It comes with (maybe slightly false) harmonious vocal lines too. And throughout the album, one might notice elements inspired by the likes of Burzum, early Enslaved, Kampfar, Arkona, Forgotten Woods or Mordaehoth too (amongst others). Yet still Pagan Assault maintain to have an own, characteristic approach, based on persuasion and craftsmanship.
Besides the use of many 'traditions' (specific rhythms, the epic melodic vocals, etc.), there are a couple of extras that are truly a surplus. An example is the limited though not-to-underestimate use of keyboard lines in a couple of songs. They do not play a leading role, but do create a dense, misty and mystic sphere. Not that original either, yet very pure in essence, are the (few) acoustic guitar additions (like in L'Armée Des Souvenirs (March Of The Forgotten Warriors) ('the memory legion …'); and in this specific song's case, these acoustic guitar lines are just grandiose, by the way! Also the differentiation in tempo is truly nice. J'Attends Un Signe Des Dieux ('I'm awaiting a sign of the Gods'), for example, is such a song that comes with both slow and mid-speed tempo. Some tracks, like higher mentioned Honneur & Fidélité or (parts of) Un Ciel Sans Étoiles (Dans L'Ombre De La Roue Du Soleil) ('a starless sky (under the shadow of the Sunwheel)') come with a speed-up pace, while most parts are rather slow to mid-tempo oriented.
This final edition (original it was meant to be released somewhat earlier via Darker Than Black, but apparently this never was the fact) comes with two cover songs. And both of them are truly well performed. First comes My Pagan Fatherland, taken from Veles' 1995-album Night On The Bare Mountain (at least as grim and intense as the original), and the album ends with Graveland's For Pagan & Heretics' Blood (taken from Graveland's 1993 demo-tape), which too is a true revelation.
Conclusion: Pagan Assault deliver a rough diamond with their debut Révolte Contre La Destinée. It surely is one of the most impressive Pagan / Black albums in a decade, and it makes me craving for more.