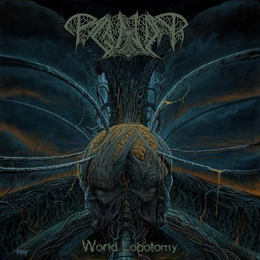 Does Rogga Johansson ever sleep? Or is he a five-piece entity? Five persons in one? For sure he must be one of the most active and creative musicians on Earth. The number of albums he released the last couple of years as solo-artist or with one of his many bands is quasi endless (think The Grotesquery, Humanity Delete, Bloodgut, Bone Gnawer, Those Who Bring The Torture, Megascavenger, Ribspreader etc.); recently he also started a new band called Down Among The Dead Men, he started collaborating with the international 'all-star' project Just Before Dawn, and he joined Fondlecorpse last year as their new guitarist. Besides, he seems to have time to act as guest or session musician on new recordings by e.g. Chalice Of Doom, Puteraeon, Entrails, Putrevore and Affliction Gate. He recently also did a new album with another über-busy personality, Paul Speckmann (review coming soon). And with his main band, Paganizer, he is about to release the ninth full length studio album, which this review will deal with. And then I am not talking about some of the other bands he's still active with (Demiurg, Swarming, The 11th Hour etc.). No, seriously, is this guy real or is it a robot?
World Lobotomy was recorded at the Garageland Studio with mixer / master Ronnie Björnström (think: ), and besides Mister Johansson (vocals + guitars) it was recorded with long-time friend and colleague Andreas Carlsson on lead guitars (together with Rogga he was one of the founding members after Terminal Grip split-up; Andreas apparently left Paganizer a couple of months ago), drummer Jocke Ringdahl, and new member Dennis Blomberg (who switched over to lead guitars since Andreas left) (also active in the new project Down Among The Dead Men).
The last full length this band released was 2011's Into The Catacombs, which did disappoint me somehow. Sad, because I think the one before Into The Catacombs, Scandinavian Warmachine, was one of the best Death Metal albums from 2009.
My problem with the last album was the weakened approach - it lacked of massive-metallic balls; back then I thought Rogga was too busy with too much things, so that he couldn't concentrate fully on writing music for his main band anymore. But I was wrong, because it had nothing to do with a full schedule. Why am I so sure about this? Well, actually he is even more occupied than ever, and (almost) everything he does lately is of a wonderful quality. The same goes for this new Paganizer-record, World Lobotomy. It's harsher again, like Scandinavian Warmachine, with renewed courage and craftsmanship. Still there is not one single renewing aspect, but that's a surplus for Paganizer is a characteristic monument since twenty five years (and why changing a winning team?); for new, or other, sources of inspiration, by the way, Rogga has other outlets, as mentioned before. The twelve Old School creations on this album bring again that typifying crusty sound, melting 'blast' and 'epic' into perfect symbiosis. And the musical approach in the vein of the late eighties / early nineties in combination with that rough, brutal and megalithic sound exhales, again, a band with extremely experienced, and enthusiastic, musicians.